Maserati launches limited edition Momaboma eco-bag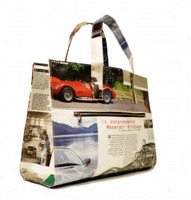 Maserati has launched the limited edition Momaboma eco-bag, dedicated to all car-mad fashionistas.
The Momaboma eco-bag celebrates the history of Maserati, one of the world's most prestigious car brands. Like Maserati cars, these bags are entirely hand-made in Italy. They are made of old brochures recovered from the Maserati archives. One by one, the most beautiful pages of Maserati's 95-year history come back to a new life, in a different shape: a testament to the passion and creativity behind Maserati and Momaboma products.
Produced in a limited edition of 150 pieces, the Momaboma eco-bag goes on sale today with a retail price of £130. It can be ordered exclusively at Maserati dealerships or by calling/emailing Maserati GB direct on +44 (0)1753 878 753 – marketing[at]maserati.co.uk.