Kenya to welcome an abundance of new luxury properties in 2013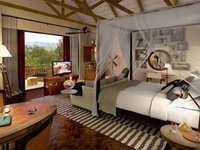 Kenya's portfolio of luxury hotel offerings is increasing with more five-star brands set to open properties in the country this year. New Nairobi openings include Hemingways Nairobi, a boutique hotel opening in March 2013 and Kempinski Hotels' new luxury hotel set to launch in May 2013. In the Maasai Mara, Virgin Limited Edition Collection will welcome guests to its Mahali Mzuri safari camp this summer and the Enkeri Mara, which is being launched by Middle Eastern brand Emaar Hospitality Group, will open at the end of this year. Lastly, the Rezidor Group will open Radisson Blu Hotels & Resorts Nairobi in early 2014.
Hemingways Nairobi will be the latest addition to the luxury Hemingways collection and will be fully operational and ready for clients at the beginnng of March 2013. The plantation-style boutique is situated in the Nairobi suburb of Karen and will boast 45 suites overlooking the Ngong Hills. The hotel also includes a wellness centre, a swimming pool, gym, spa and a personalised butler service.
For more information, visit hemingways-nairobi.com
Kempinski Hotels is currently constructing its second property in Kenya which is due to open in May 2013. The five-star Villa Rosa Hotel will be situated on Chriromo Road, Nairobi and will feature 200 rooms, six business suites, a presidential and super presidential suite, four executive suites and a swimming pool. Kempinski Hotels also owns Olare Mara, a luxury safari camp already operating and situated on the banks of the Ntiakitiak River. Olare Mara's features include two game drives a day, an outdoor swimming pool and rejuvenating massage treatments.
For more information, visit kempinski.com/en/nairobi/hotel-villa-rosa/
Sir Richard Branson's hotly anticipated luxury safari camp Mahali Mzuri will open to guests in summer 2013. The resort will sit in the Virgin Limited Edition portfolio of boutique, luxury retreats and is located in the Motorogi Conservancy. Mahli Mzuri will have 12 luxury tented suites catering for 24 guests in total with decking viewpoints and will also boast an outdoor infinity pool. A safari package at Mahali Mzuri will include twice daily game drives and guided walks throughout the Motorogi and Olare Orok Conservancies.
For more information, visit mahalimzuri.virgin.com/en
The Emaar Hospitality Group is set to open a new property near to the Maasai Mara at the end of 2013. The Enkeri Mara by the Address Maasai Mara will have easy access from Olurruk Mara Airstrip and guests can enjoy stunning views over the reserve from luxury safari tents. The resort will feature an array of restaurants and a wellness spa that uses traditional Mara herbs and concoctions. Emaar Hospitality Group properties include the fashionable Address Residence in Dubai.
For more information, visit emaar.com/theaddress
Radisson Blu Hotels & Resorts, part of the luxury Rezidor Group will open early 2014 and will be situated in the Nairobi Upper Hill area, south of the city centre.
For more information, visit radissonblu.com/hotel-nairobi
For more information on Kenya, visit magicalkenya.com