The world's 'Coolest Festival' - Iceland Airwaves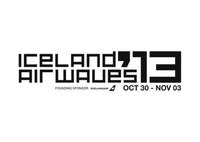 Iceland has once again been placed on the musical map with the success of folk band Of Monsters and Men. For those looking for a unique festival experience and want to be the first to hear Iceland's next big band, Airwaves is hard to beat! Festival goers can stay at the funky Icelandair Hotel Reykjavik Marina, located in the heart of the action and the place to be seen at the coolest after parties in town.
Since Iceland Airwaves first kicked off in 1999 in an aeroplane hangar, it has become a premier showcase for new music, both international and Icelandic. Iceland Airwaves incorporates a selection of eclectic and intimate venues throughout Reykjavik with a mixture of local and international bands combining alternative, pop, dance and techo. International artists this year include Syrian music legend Omar Souleyman, Electronic producer Gold Panda (UK), and Swedish Voodoo rockers Goat. On the Iceland front, the festival welcomes lo-fi hero's múm the recently reinvented Hjaltalin, pop artists Valdimar, and the folk pop group Tilbury.
After hitting the festival guests can return for a late night snack to Icelandair Hotel Reykjavik Marina's 24 hour Slipp Canteen offering simple and tasty meals to soak up the alcohol before bed. Guests can also enjoy some pre-party or post-party cocktails at the hotel's Slipp Bar (Slippbarinn), Iceland's largest cocktail bar offering a wide variety of hand selected wines and refreshing cocktails. A place to see and be seen, the bar will also be home to traditional Icelandic music evenings and have some refreshing stand-up comedy acts so guests can 'live like a local'.
Five nights at Icelandair Hotel Reykjavik Marina or Icelandair Hotel Reykjavik Natura during Iceland Airwaves costs from £660 per person for a double room including breakfast and return flights from London Heathrow to Reykjavik departing on 30th October. The five day Iceland Airwaves Festival pass costs £95.
For more information on Iceland Airwaves, visit icelandairwaves.is
For more information on Icelandair Hotel Reykjavik Marina or to book, visit icelandairhotels.com/hotels/reykjavikmarina
For more information on Icelandair Hotel Reykjavik Natura or to book, visit icelandairhotels.com/hotels/reykjaviknatura
Icelandair Hotel Reykjavik Marina has a choice of 108 rooms and suites, which are each individually designed with a funky feel to them and they all have beautiful views of either the city, marina and harbour. The hotel is located in the heart of the old harbour, close to Harpa Concert Hall & Conference Centre and The Pearl, (a unique source of heating the city using natural hot water). Within only 2 miles of Reykjavik Marina guests can visit more traditional sites such as Hallgrímskirkja Church and The National Museum of Iceland while on its doorstep there are local seafood restaurants, cafés, galleries and vibrant night life aplenty.