Proton supplies the Jumbuck to local authorities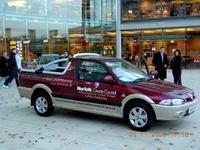 The sturdy, reliable, two door pick-up, the Jumbuck, is the perfect work companion, and with Lotus expertise the Jumbuck offers a level of ride and handling rarely found in utility vehicles.
Several local authorities and service companies have taken the Jumbuck on as their full time workmate and the popular pick-up can be seen out and about doing its job all over the UK.
In October 2003, Proton loaned a Jumbuck LPG pick-up to Norfolk County Council for one year so it could take part in the Council's alternative fuel trials. The Council were so impressed with the Jumbuck that they decided to purchase it at the end of the free loan period.
Stuart Hutchinson, Project Manager of the Alternative Fuel Trials at Norfolk County Council commented;
"We have been extremely impressed with the performance of the LPG Jumbuck GLS during the course of our Alternative Fuel Trials. The driver of the vehicle reports that it handles very well, the ride is extremely comfortable and virtually silent when running on LPG. The Jumbuck is producing consistently good emissions test results and the vehicle has proved to be both practical and financially beneficial - in terms of low running costs."
Bridport Town Council purchased a Jumbuck from Proton dealer West Road Garage. Bernard Paull, Town Surveyor at Bridport Town Council commented:
"Bridport Town Council purchased a Proton Jumbuck about six months ago. We have a small workforce that looks after the town cemetery and a number of play and amenity areas scattered around the town. The Jumbuck is ideal for running between sites and for fetching and carrying various bits and pieces. It is comfortable, practical and economic to run. Another factor in our choice was the purchase price. When you are working with a small authority it is important that the money is spent wisely. In the case of the Jumbuck we believe it was."
Ferndown Commercials in Wimborne, Dorset has supplied Dorset Ambulance Service and The Royal Bournemouth Hospital with Jumbucks.
Mike Lawrence, General Manager, Laundry and Linen Facility at the Royal Bournemouth and Christchurch NHS Foundation Trust commented:
"We are an NHS Laundry service operating in the commercial market providing a service to hospitals, hotels and restaurants. The Jumbuck is the perfect vehicle for us; it is versatile, extremely reliable and the size makes it a cost effective method of transport."
Standard features of the Jumbuck include:
Payload of up to 645kg, load capacity 800 litres
Power-assisted steering
Lotus-developed suspension
Remote central locking and perimeter alarm
Removable tailgate and back-step access
Available with a choice of hard Truckman canopies, soft tonneau covers, load liner and styling bars
Currently the Jumbuck is available with free delivery, worth over £400 until 31 December, 2005. There are a choice of finance offers when purchasing the Jumbuck through Proton Finance Ltd. Customers can choose to take 0% finance or to pay for their Jumbuck with just a £1 deposit. Proton currently has over 70 Jumbuck dealers.