Proton announces Grand Prix VIP Challenge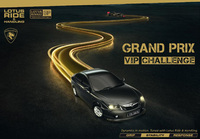 To celebrate Proton's collaboration with the Lotus Renault Grand Prix (LRGP) which is competing in the current season of the FIA Formula One World Championship, Malaysian car manufacturer has launched the 'Grand Prix VIP Challenge' - a global online competition to give away an all-expenses paid trip for two to watch the Brazilian Grand Prix in São Paulo between 25th and 27th November 2011.

With iconic sports car manufacturer Lotus, wholly-owned by Proton, being the title sponsor of the competing team, the competition is open to motorists who service a Proton between now and 15th October 2011.

In addition to the star prize, Proton is also giving away two iPad 2 plus 50 other attractive prizes each month between 15th July 2011 and 15th October 2011 for its existing and potential customers worldwide who participate in its global online contest.

To enter, motoring fans simply need to visit proton.com/grandprix and answer five random questions in the fastest time about Proton, Lotus or LRGP in order to become eligible to win the montly prizes. With over 90 dealerships based throughout the UK, customers who service their Proton during this period with an official dealer will receive a scratchcard that will award them with additional chances of winning, by improving their previous score.

The contest is being run in 21 countries: Australia, the United Kingdom, Singapore, Thailand, Brunei, Indonesia, Egypt, Syria, Jordan, Lebanon, Iraq, Turkey, Qatar, the United Arab Emirates, Bahrain, Oman, Mauritius, South Africa, Bangladesh, Sri Lanka and Nepal.

"Our association with Lotus Renault Grand Prix (LRGP) provides us with a unique way of sharing our excitement with our existing and potential customers. Above all, it allows us to express our gratitude for the continued and growing support as well as acceptance the brand has received worldwide," said PROTON Holdings Berhad Group Managing Director Dato' Seri Haji Syed Zainal Abidin Syed Mohamed Tahir.

LRGP is currently fifth in the Constructor Standings.

Log on now to proton.com/grandprix, for your chance to witness the adrenalin-packed action of Formula One racing at the final round of the 2011 championship in Brazil.