New Year offers from Proton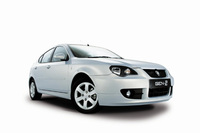 Proton has extended a three years free servicing offer on all new vehicles in its range when purchased and registered up until 31st March 2012.

Helping motorists to relax and feel safe in the knowledge that they are covered by expert service protection for three years, Proton has a car to suit a range of budgets, with the current line-up including the fun and spacious 5-door Savvy city car, the sporty Lotus inspired 3-door Satria Neo and new Satria Neo Sport, the 5-door GEN-2 family hatchback and the 4-door GEN-2 saloon and LPG dual fuel GEN-2 ecoLogic range.

Giving real value for money, Proton is also offering a free leather upgrade, worth £1,000, on the 1.6 GSX ecoLogic and the GEN-2 1.6 GSX.

Offering a new and flexible approach to finance for customers looking for a great deal across the 70-strong dealer network in the UK, Proton has also just partnered with Close Motor Finance, one of the fastest growing independent point-of-sale finance providers in the UK.

Talking about the latest offers, Simon Park, General Manager Sales and Marketing for Proton Cars (UK) Ltd, said: "We like to add value to our customers, and by extending our free three years servicing offer and introducing free leather upgrade for selected cars, we hope they really feel the benefit. It's great to help people's money stretch that little bit further, and be safe on the road."

Commenting on the new partnership with Close, Simon added: "With the launch of five new products planned to roll out over the next two years, Proton is moving into an exciting period of growth and we therefore took the decision to enter into a joint venture with Close to help us provide continued excellent support to our 70 dealerships which are based across the UK."

To find out more about this offer or arrange a test drive, visit proton.co.uk.