Puffins patrols by kayak on Herm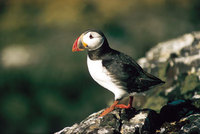 Nature lovers who want to see puffins in the most unobtrusive manner can join kayaking puffin patrols on the tiny English Channel island of Herm, from April until July. The small car free island, with its grassy cliff tops and open seas, forms an ideal habitat for hundreds of puffins each spring and summer and is one of the most southerly puffin breeding colonies in Europe.
The kayaking puffin patrols will start on 1 April and are led by nature experts who know the movements of the puffins and the waters around Herm intimately. The trips depart from Shell Beach and take participants around the island's rocky cliffs to see the birds in their natural habitat. The puffins are surprisingly tolerant of humans and the groups often get within 20 feet of the birds. Seals are also regular visitors and are known to follow the kayaks!
The kayaking trips take about two hours and are booked through Outdoor Guernsey (outdoorguernsey.co.uk). The patrols cost £30 per adult and £15 for under 16's. Those looking for an alternative puffin trip can join Bumblebee Boat Cruises (bumblebee.gg) on an hour long boat ride around Herm and Jethou Island to see the puffins. The trip costs £25 for adults and £15 for children.
Stay at Herm's White House Hotel (herm.com/hotel/), with prices starting from £196 per night for a cottage with a double room including breakfast and dinner. Alternatively, stay in the Seagull Campsite, which has stunning sea views and costs from £31 per site per night. Herm is accessible with a 45 minute flight to Guernsey from Gatwick followed by a 20 minute ferry ride from St. Peter Port to Herm. Flights start from £92 return with Aurigny aurigny.com) and crossings with Trident Ferries (traveltrident.com) cost from £11.50. Flights to Guernsey are also available from Stansted, Manchester, East Midlands, Southampton and Bristol.