Star Clippers refurbishes two ships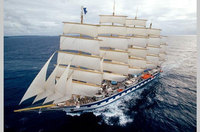 As part of an ongoing programme to keep Star Clippers' classic tall ships looking fresh and bright, Royal Clipper – the line's flagship – and Star Flyer recently underwent refurbishments to replace all of the soft furnishings and give the vessels a renewed look.
The 227-passenger Royal Clipper underwent a two-week dry dock in Trinidad in January, during which the elegant dining room received new carpeting and seating upholstery and the corridors received new carpet. Guest cabins were given an update with new paint and a bathroom rejuvenation. Wood panelling and accents in the public areas were treated to a fresh coat of varnish.
"It's important to maintain the look of our ships so that when guests step aboard they feel like they are coming on to their own well-maintained yacht," says Andy Lovering, director of sales and marketing. "We want to exceed our guests' expectations for their entire Star Clippers experience and that includes the appearance of the ships."
The 170-passegner Star Flyer recently underwent a dry dock in 2012 in which the ship's soft furnishings were replaced, including new carpet in most public areas and new seating cushions the dining room and library. All of the cabins and public areas received fresh paint and new artwork in the nautical theme that is found in the décor throughout the vessel.
Royal Clipper will be sailing in the Mediterranean this summer and Star Flyer in the Baltic. To book, visit starclippers.co.uk.