Proton's strong start to 2006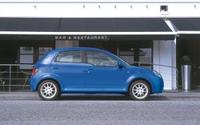 Proton Cars UK has enjoyed high sales growth and positive dealer recruitment in January, and the Malaysian manufacturer is on track to have a successful 2006.
The sales figures speak for themselves with total Proton sales up by 82% and total car sales up 158% in a car market down by 13%. Despite the difficult market, Proton dealers have worked hard to achieve encouraging levels of growth, with GEN-2 sales up by 80% on January 2005.
The newly launched 1.2 litre Savvy is proving popular with new car buyers, and demand for the new city car has so far outstripped supply.
Proton targets to triple sales in 2006 with the Savvy targeted to take 50% of these sales.
Dealer recruitment continues apace, and Proton has already appointed eight new full dealers in 2006. The new dealers include:
Ryders of Warrington – Warrington, Cheshire
F.R. Pulleyn Ltd - York
Ashby Garage – Lutterworth, Leicestershire
Threeways – North Wales
Otley Motors – Otley, West Yorkshire
Massey O'Brien Cars – Holbeach, Lincolnshire
Strachans of Ayr – Ayr, Ayrshire
Klic Cars – Dumfries
Simon Park, General Manager, Sales and Marketing at Proton Cars (UK) Ltd commented, 'Dealer recruitment is the key to Proton's long term business success and we plan to have a total of 140 dealers by the end of 2007.'
A heavyweight television, poster and press campaign featuring the GEN-2 and the Savvy began on 6th February 2006 on ITV.
The Savvy range is priced from £5,995 on the road and all models are available with CD player, alarm, remote central locking, parking sensors, ABS and twin airbags. Top of the range Savvy 1.2 Style models are available from £6,995 with air conditioning, alloy wheels, electric front windows and front fog lamps. Further good news for Savvy customers is that residual values are forecast to be robust. Industry specialists CAP have valued the Savvy Street at 3 years/ 60,000 miles at 34% of the new price.