The Best Job in the World is back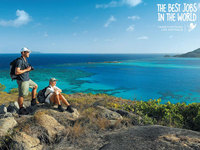 Calling all eco-heroes and lovers of the great outdoors – if you look good in khaki and could talk the ear off an emu, you'll be calling cooee over this Best Job in the World.
Queensland is hunting for a Park Ranger – and they're offering up a six-month contract, and A$100,000 package, in Tourism Australia's 'Best Jobs in the World' campaign.
Minister for Tourism, Major Events, Small Business and the Commonwealth Games Jann Stuckey said Tourism and Events Queensland would offer one of six dream jobs as a tourism ambassador.
Each state involved has selected a 'job' which showcases the particular state, and reflects the many and varied tourist experiences available throughout the country.
"The successful Queensland applicant will experience what life is like as a Park Ranger, exploring the state's natural attractions and reporting back to a global audience," Ms Stuckey said.
This is a once-in-a-lifetime experience, in the most vast and spectacular outdoor classroom on Earth where no two days will be the same.
The competition will be unveiled today in Cairns by the Hon. Federal Minister for Tourism, Martin Ferguson AM MP, alongside Ben Southall who was the successful candidate in Queensland's famous 'Best Job in the World' campaign in 2009.
The campaign is targeted at travellers between 18 and 30 years of age who are eligible for an Australian working holiday visa, and Australian residents are also invited to apply.
Applicants will be narrowed down to a shortlist of 150, and then further reduced to 18 finalists from whom the six winners would be chosen.
The successful Queensland candidate is expected to take up the position from 1 August.
Applications are now open at bestjo.bs/Park_Ranger