Culture vessel MS Stubnitz sails into Wood Wharf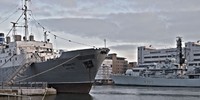 Cold war relic and culture ark MS Stubnitz has sailed into a mooring at Wood Wharf, the waterfront area earmarked for future development immediately east of Canary Wharf in Central London.
MS Stubnitz is an 80m long former East German fishing ship, and will be in place until 16 May to host an exceptional spring programme of arts and events: from contemporary circus and trapeze workshops to acoustic Egyptian Oud music and the amusing intricacies of the Cabaret of Mechanical Theatre.
Weighing over 2,500 tonnes, MS Stubnitz is a cultural heavy-weight in more ways than one. At previous locations she has played host to some of the biggest names in art and music - including Ramstein, Grandmaster Flash and Laurel Aitken, bringing decades of northern European counter-culture to some 570,000 visitors. Her crew of 15 artists and engineers is captained by founder Urs 'Blo' Blaser, and will bring a host of exciting events to Wood Wharf before sailing on to Dunkirk for the next leg of its journey.
From 5 March the creators of the Underground and Download Festival hit 'Madame Pain's Boudior Circus', Aircraft Circus unveil their exciting new production 'Midnight Circus'. Aircraft Circus will launch with a free, outdoor circus show on deck on Thursday 7 March at 3pm.Recently premiered at the Greenwich Circus Festival, the troupe invite budding acrobats to take part in a series of challenging and exhilarating workshops inspired by the show. Ranging from one-hour lunchtime taster sessions to six week courses, those keen to run away with the circus can try their hand at Static Trapeze, Circus Conditioning and Acrobatic Balancing. Throughout March, Aircraft Circus will amaze audiences with performances of the spectacular 'Midnight Circus'.
On 12th March, the crew of MS Stubnitz will reveal the impressive automata of the Cabaret of Mechanical Theatre. This one-off exhibition of precious and intricate machines offers the opportunity to learn more about their ingenious engineering and amusing, unexpected performances. A collection of global renown, this exhibition has travelled the world, from Australia to Bangkok, Seoul, Tokyo and the US. It includes pieces by well known artist-engineers such as Paul Spooner, Keith Newstead, Pierre Mayer and Matt Smith. Alongside the exhibition, experts will offer day-long workshops for those keen to try their hand at creating their own mechanical masterpiece.
Concluding the first few weeks of the MS Stubnitz programme is Egyptian Oud in Concert: Mohammed Abozekry and HeeJaz on 6 April. During this evening of atmospheric acoustic music, oud player Mohammed Abozekry and his group HeeJaz will take the audience on a trip to the heart of ancient Egypt. While the HeeJaz quartet of oud, guitar double bass and percussion form a strong rhythmic and harmonic backing, Mohamed will delight crowds with his famous improvisation across a wide range of musical styles, all contained within the ship's sound proof steel hull.
Katy Doggett, at Canary Wharf Group said: "MS Stubnitz is the flagship for a great array of cultural arts and events at Wood Wharf in the coming year. We are very pleased to welcome the MS Stubnitz as it brings something completely different to Wood Wharf, showing that this place attracts the best cultural minds, as well as commercial ones. It gives a nice hint of the future use of Wood Wharf, which will have world-class technology, arts and cultural experiences embedded into the development from the very start."
Aste Amundsen from the MS Stubnitz said: "We are delighted to present a short but action packed season of arts and events at Wood Wharf this spring. It's a striking setting for the ship worthy of a visit in and of itself. This new mooring is also very central and easily accessible by public transport. Events will include the high quality, eclectic music programming the ship is famed for as well as circus, kinetic arts, maker workshops and much besides. Check back often, events will be announced on a rolling basis."
Wood Wharf is a 20 acre waterfront site immediately east of Canary Wharf, set for future mixed-use development by Canary Wharf Group. One of Central London's most exciting waterfront sites, ahead of development Canary Wharf Group is using the site for a range of cultural activities, including lunch markets, yacht moorings, ice sculpting festivals and more.
For more information, visit aircraftcircus.com / stubnitz.com.