Great expectations for UK book sales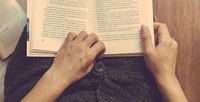 It is a truth universally acknowledged that Brits just love a good book, so much so that the market is not set to surpass the £2 billion mark. Indeed, Mintel's Books and e-books UK 2017 Report reveals that sales of books and e-books are estimated to reach £2.02 billion in 2017, marking an annual increase of 4%.
And while many thought that the rise of e-books may act as a plot twist for the fortunes of print books, it seems that the latter is fuelling sales in the overall market. Indeed, Brits still prefer print, with sales of physical books forecast to rise by 6% this year to £1.7 billion. On the other hand, for the first time ever, sales of e-books are predicted to take a tumble. While the e-book market has grown year-on-year since Mintel began measuring the market (up from £216 million in 2012 to £339 million in 2016), sales are forecast to dip in 2017, falling by 1% to £337 million in 2017.
Looking towards the next chapter, Mintel research shows that it will be physical books that will continue to fly off the shelves. Sales of print books are forecast to grow by 25% in the next five years to reach £2.1 billion, according to Mintel; however, e-books will see only marginal year-on-year increases to reach £383 billion in 2022.
Rebecca McGrath, Senior Media Analyst at Mintel, said: "The print book revival continues as consumers, young and old, appear to have established a new appreciation for this traditional format. Consumers are placing growing value on physical goods in a digital world. In contrast to the print market, the e-book market remains stagnant and it appears that e-books are set to remain a fairly niche part of the market, contrary to early predictions that the format would begin to dominate."
Furthermore, Mintel research shows that UK consumers are prepared to invest more in physical books. As many as two in three (69%) book, e-book and audiobook buyers are prepared to pay more than £6 on a hardback book, while 48% are prepared to spend more than this on a paperback. On the other hand, just 17% are prepared to spend more than £6 on an e-book.
Overall, Brits are more likely to have their head in a physical book than a digital one. While over three in five (62%) Brits have bought a book in the last 12 months, over half (54%) bought a print book. In comparison, just one in four (24%) has purchased any digital book and 21% bought any e-book.
When it comes to getting in the good books, four in five (80%) Brits who have bought books, e-books or audiobooks in the past year say they "prefer to buy print versions of books they're very interested in", while two in three (65%) say that "shopping at bookshops encourages them to buy books on impulse". However, there is interest among readers for books to branch out into new formats, as almost one in four (23%) say they're interested in buying 'enhanced' e-books.
"The strong preference people have to own print versions of the books they are most interested in solidifies the notion that e-books are principally bought for more 'disposable' content. If e-books are viewed as disposable or less valuable then it limits the growth we can expect from the market. E-book publishers have to convince the most interested readers of the value of owning digital versions rather than print. Enhanced e-books, that include extra content, audio and graphics, appear to be the best way of achieving this as this special content can help convince fans that they will be missing out by not owning a digital edition." Rebecca adds.
Overall, 74% of Brits have read or listened to a book in the last 12 months. Over three in five (62%) have read a physical print book, while 18% have read a book on an e-reader and 6% have listened to an audiobook.
When it comes to reading locations, 94% of those who have turned the pages of physical books in the past year have done so in the comfort of their own home, while 43% have done so on holiday and 24% when travelling or commuting. In contrast, over the past year, 30% of e-book readers have read these while commuting, while 43% have done so on holiday and 74% at home.
"In such a connected world many people increasingly value time when they can get away from screens. When it comes to print readers, many value the chance to enjoy some digital-free time at home. As lives and homes becomes even more connected and digitally-focused, the rare moments one can 'switch off' will likely become even more highly regarded, helping further cement the importance of print books in people's lives." Rebecca concludes.