Halloween more a delight than fright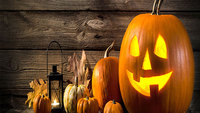 It's a tradition that is well established across the pond, but now it seems that Halloween has found a place in UK consumers hearts and in their wallets too. New research from Mintel estimates that Brits will spend a terrorific £310 million on Halloween in 2016, up 5% from £295 million in 2015.
Last year, a fearless 40% of all Brits spent money on Halloween. And while 42% of those who treated themselves on Halloween products spent less than £10, a quarter (26%) spent between £11- £25, while a fifth (19%) spent between £26 – £50. What is more, a thrilling 6% of the nation's Halloween purchasers spent a spooktacular £85 or more.
Not wishing to miss a trick, it appears that Britain's Millennials are devils when it comes to the spookiest time of the year. Last year, as many as half (50%) of Millennials spent money on Halloween. And while three in five (61%) Halloween purchasers enjoy taking part in Halloween, this figure rises to a blood curdling 71% of Millennials. Overall, around a third (32%) of Halloween purchasers spent more on Halloween products in 2015 than the previous year, increasing to almost half (48%) of Millennials.
Alice Goody, Retail Analyst at Mintel, said: "The value of the Halloween market is set to rise in 2016, as retailers continue to dedicate more space in store to their seasonal ranges. For Millennials who grew up celebrating Halloween, this nostalgic event provides a good excuse for a party, driving retail spend on food and drink, as well as money on going out. Capturing the imagination of these young consumers will be key to driving the growth of Halloween, as not only are they buying more items and spending more on average than other generations, but the vast majority agree that they enjoy taking part in the event."
Last year the nation's top five Halloween activities were carving a pumpkin (13%), watching a scary film (12%), dressing up in fancy dress or facepaint (10%) decorating the home or garden (9%) and hosting or attending a party or dinner party (8%).
Those in the West Midlands led the cake baking (12% compared to an average of 7%) and scary film watching (17% compared to an average of 12%), while Londoners were the most likely to play games (11% versus an average of 7%) or cook a special meal (11% versus an average of 7%). The East Midlands were the most likely to shun Halloween – seven in ten (71% compared to an average of 64%) did not participate at all. Women aged 16-24 and parents of under-5s proved that dressing up isn't just for children; 27% of these consumers wore fancy dress or face paint for the occasion, compared to 10% on average.
"The popularity of pumpkin carving, dressing up and face paint creates an opportunity for retailers to tap into the desire for experiences by offering in-store Halloween workshops, such as pumpkin-carving ideas or face painting tutorials." Alice adds.
But Brits love of Halloween doesn't just stop with the kids, as it seems that the nation's pets are getting into the spirit of the occasion too as last year just under one in twenty (4%) Brits treated their animal to a pet accessory. What is more, a purrfect three in ten (28%) of last years purchasers said they would be interested in buying Halloween pet related products, peaking among men aged 25-44 (44%) – proving Brits are barking mad about Halloween.
"Halloween-related pet products, such as toys or costumes, have emerged as a key trend. While less than one in twenty shoppers bought themed pet accessories last year, those interested in buying Halloween-related pet products has risen rapidly, boding well for the growth of this category. With pets increasingly being seen as part of the family, owners are even more inclined to spend out on their pets, making them a key demographic for retailers to target." Alice continues.
Finally, hot on the heels of Halloween, Bonfire Night is the smallest Autumn/Winter event in the calendar, worth an estimated £52 million in 2016. The event is somewhat overshadowed by Halloween and the Christmas build-up and Mintel research shows that the majority (66%) of consumers prefer to attend an organised display rather than host their own at home. Just 23% of consumers spent money on Bonfire Night in 2015, compared with four in ten for Halloween.
"Bonfire Night is a fairly insignificant event in terms of consumer spending as it falls just after Halloween and as the pre-Christmas build-up starts. There are greater opportunities for retailers in more rural areas, as our research finds that consumers in urban areas are much more inclined to attend an organised display." Alice concludes.