Parks welcome newly-hitched caravan lovers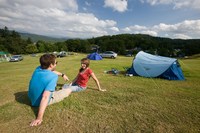 Caravans and tents are the new hideaways for honeymoon bliss on a budget, according to the Best of British holiday parks group.

Following a recent poll of its 50-plus members, many parks reported an escalation in bookings from young couples checking-in straight from their wedding reception.

Best of British says that caravan holiday homes are now a popular choice for newly-weds who want space, comfort and privacy without the crippling cost of a luxury hotel.

But also loved by the newly-hitched is a rented motorhome in which to spend their honeymoon - whilst others opt to cuddle up under the canvas and spend their nuptial nights in a tent.

According to Best of British - a consortium of independent holiday parks with top quality gradings - many of its members now pitch themselves directly at the newly-wed market.

For example, at the top-rated Woodovis Park in Devon's Tamar Valley, couples are offered a range of heavenly honeymoon options including cosy "glamping" pods and luxury spa treatments.

And at Stroud Hill Park in Pidley, Cambridgeshire, there is even a stunning timber-built barn for wedding receptions, and a shepherd's hut on the side of the adjacent lake for use by honeymooners.

"We think that this spring could see more couples than ever making a romantic start to their married lives on our members' holiday parks," said Best of British chairman Claire Jeavons.

"Many people are now looking to cut the traditional high cost of a wedding, and staying on a park is an excellent way to save the pennies for more practical needs.

"But young lovers can also enjoy some other great benefits - such as a much more intimate and peaceful environment than a busy hotel, and no danger of being overheard in adjoining rooms.

"There's also more space in a caravan holiday home than even a large hotel suite, and of course you don't have to hang a "do not disturb" sign outside the door," said Claire.

She points out that parks in membership of the Best of British are largely family-owned, and are well accustomed to helping guests plan their perfect stay.

"What every couple wants to bring back from their honeymoon is happy memories, and high quality surroundings go a long way to setting the scene for creating these," commented Claire.

"That's why many of our members now find that they are appearing on the top of wedding wish-lists, and providing amazing experiences to fondly look back on!" she added.

More information, and an interactive map of holiday park locations and facilities, can be found on-line at Bob.org.uk. A free brochure can also be requested from the website.