Proton Cars teams up with 600 rider Midge Smart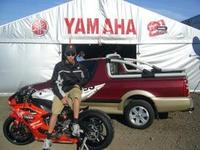 Proton Cars has teamed up with up-and-coming 600 rider Midge Smart, loaning him a Jumbuck pick-up to assist him with the transport of his motorbike to races across the UK.
The talented and determined nineteen year old is competing in the prestigious Virgin Mobile Cup which is known for uncovering stars of the future.
Midge will be driving his Jumbuck to each of the Virgin Mobile Cup events with his Yamaha R6 bike fitting comfortably in the back. The Jumbuck is designed to be tough and practical, with a payload of up to 645kg and a load capacity of 800 litres. The 1.63m flat bed with back step and drop down removable tailgate make it an ideal vehicle for bike transport.
Midge Smart said, ''I was really happy to get the opportunity to use the Proton Jumbuck during this racing season. If, like me, you're into bikes it's the perfect vehicle. I can use it as a regular car, as it's small and easy to drive and packed with extras usually only found in a car, but being a pick-up it's also got the extra space in the back to throw a motorbike in and go practicing or racing. The Jumbuck's really practical for a wide range of jobs or activities, eliminating my usual need for a car and a van. Two vehicles in one – perfect.''
Proton's General Manager of Sales and Marketing, Simon Park commented, "We are really pleased that we have been able to help Midge and knew that the Jumbuck would provide the ideal transport solution for him."
Proton is currently offering Jumbuck customers some great deals across the range. The Jumbuck GL is available with a free hard top package with extras worth over £1,300, including: a free white hard top (retailing at over £600), free stereo, free load liner and free delivery. As an alternative to the hard top package Jumbuck GL and GLS models have three years' (27,000 miles) free servicing. Customers can choose either of the Jumbuck offers and combine it with the £1 deposit deal when their new Jumbuck is purchased through Proton Finance Ltd.
So until 30 September 2006, for just £5,995 + VAT and £208 on the road costs, customers can turn their pick-up into a van and get a host of other great features absolutely free of charge.