STA Travel partners with Best Jobs in the World Australia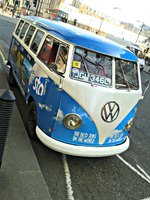 STA Travel, the world's leading student and youth travel company, has teamed up with Tourism Australia on a global competition offering six awe-inspiring 'Best Job in the World' prizes including Lifestyle Photographer, Chief Funster, Wildlife Caretaker and Park Ranger. Each prize includes a six-month contract with a salary package valued at A$100,000 including all living expenses for the duration.
There are currently approximately 36,000 vacancies in tourism-related jobs across Australia offering the opportunity for young Brits to fill these gaps at a time of high youth unemployment in the UK. For eligible travellers aged 18 to 30, Australia's Working Holiday Maker program provides the perfect opportunity to enjoy the Aussie lifestyle whilst developing CV-boosting skills and earning money at the same time.
With over 30 years experience, STA Travel offers hassle-free assistance and advice on all aspects of travelling and working in Australia. Access to jobs, information on obtaining visas and other necessary paperwork as well as an array of exclusive benefits are available.
STA Travel can offer inspiration and ideas on exhilarating jobs in the Great Outdoors such as surf instructor, working on a sailing boat in the Whitsundays, divemaster or becoming a farm hand learning to muster cattle and shear sheep. A savvy way to extend a working visa by a full 12 months is to fruit pick.
John Constable, Chief Executive Officer, STA Travel said: "STA Travel is proud to be partnering with Tourism Australia on this inspirational new 'Best Jobs in the World' initiative. 35% of the passengers we send away each year travel to Australia as part of their trip. Australia is a land of opportunity for young travellers and our unrivalled expertise in Australian Working Holiday Visas means it is our job to help them match their travel ambitions and career aspirations to have an amazing adventure Down Under."
Exclusive offers available from STA Travel include:
Fly from the UK to Australia from £599 return with exclusive discounts on internal flights with Virgin Australia
Up to 50% off hotels and hostels and FREE nights with accommodation passes
Up to 15% off campervan hire with the freedom of the open road
'Work and Play' starter packs from £208 including accommodation, transfers, excursions, setting up of mobile phone, bank account and tax file number
10% off adventure tours offering a taste of different regions. The 'Beaches and Reef' 14-day tour from Sydney to Cairns is now £1,525
For further information on Australia Working Holidays, visit statravel.co.uk.
For further information on the competition, visit australia.com/bestjobs.