13 year old Proton enters Staples to Naples rally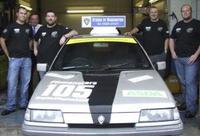 A 1993 Proton MPI bought for just £92 from ebay will be used to complete the Staples to Naples rally in September.
The Pit Monsters team, Mort, Dave, Palin and Stu are so pleased with their car that they're not just planning to travel the 1,500 miles to Italy, they are going to turn around and drive all the way back again! The team said; "Proton may be best known for being at the value end of the motoring price scale, but this car has exceeded all our expectations and we were all surprised at just how good our car is. You'd swear it was only 5 years old because it's in fabulous condition. The engine is smooth and quiet, it cruises well on the motorway and is very comfortable even with four adults on board. It starts first time, the clutch and brakes are good, and there's almost no rust – even the (original) Blaupunkt stereo sounds good! If a 13 year old Proton can be this good, a new one is definitely worth a look!"
The Pit Monsters have taken note of the fact that Proton Cars own Group Lotus Plc and have named the car Colin in honour of Colin Chapman, the founder of Lotus.
Teams entering the Staples to Naples rally must complete 1,500 miles over four days, across France, Belgium, Luxembourg, Germany, Switzerland and Italy. The rally takes place this September, with teams departing from Staples Corner in London on 21st September.
Proton Cars will help the Pit Monsters on their way by arranging a free service and helping with the preparation costs, with all work carried out at the team's local Proton dealer, Ryders of Warrington.
The Pit Monsters are raising money for the leading male cancer charity, Everyman whose aim is to raise awareness of the early signs of male cancer. To sponsor the team and find out more about the event and the Everyman charity, visit pitmonsters.co.uk.