Knead Bakery launches fresh free from breads in Whole Foods Market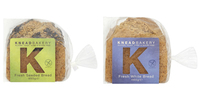 Knead Bakery will launch two highly anticipated fresh free from breads to sit alongside their range of sweet baked goods including cookies and brownies this March. After customers calling for a bread that could cater for multiple allergies and intolerances, Knead Bakery rose to the challenge of providing customers with a daily staple that could meet their increasing needs for a truly free from range.
What makes the Knead Bakery range so different to current free from offerings is that all of the products are free from not just one but multiple allergens.
The bread range carries the coeliac seal of approval and is gluten and wheat free, but unlike so many of their competitors, these loaves are also free from dairy, casein, yeast and sugar. No artificial additives, preservatives or high levels of salt can be found in these recipes either, making them a great choice for the whole family.
Sim Smith, owner of Knead Bakery and multiple allergy sufferer has had years of experiencing free from products first hand. As a result, she knew what was missing in the market and was adamant that her range would not only have to be able to cater for people with multiple allergies and intolerances but it would have to be a fresh offering, something totally different to many long life, unpleasantly textured and tasting products on the market.
Whole Foods Market will be the first to launch the range on 13.3.13 in all of its stores from London to Glasgow.
For more information, visit kneadbakery.co.uk and wholefoodsmarket.com.