La Splendida - Inspired by the colour and charisma of The Mother City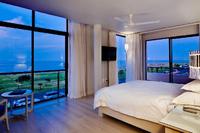 Some may say that to capture the unique and eclectic charisma of Cape Town into a hotel is impossible, not only on account of the region's vivid history but also its diverse culture and creative flair. And they may be right, yet there is an unassuming contender located on the Atlantic Seaboard, La Splendida Hotel, which may just surprise seasoned Capetonians and tourists alike. Recently undergone a R1million revamp to further enhance its aesthetic appeal and guest comfort for all room grades, this is testament to the passion and commitment of well-known management company, Newmark Hotels.
Situated along the Mouille Point promenade, La Splendida offers arresting vistas of Lions Head secure and silent alongside the ubiquitous Table Mountain spanning across the seemingly infinite Atlantic with a glimpse of Robben Island.
Voted Africa's second best travel destination by Tripadvisor's 2012 Travellers' Choice Awards, Cape Town is celebrated for its superb local wines and abundant seasonal delicacies. Experience this passion at Sótano, the unpretentious Mediterranean-style restaurant within the hotel. Complemented by the fun-loving ambiance of the promenade no doubt contributes to its ever-growing popularity among hip locals.
The charm of La Splendida is further enlivened by the creative freedom that was employed in its design. The use of vibrant colour and a less-is-more décor style not only echoes the building's art deco architecture but animates the hotel's 24 spacious rooms. Furthermore, the décor distinctly differs from floor to floor as bright colour themes revive vintage furniture and capture the creative essence of the Mother City.
Explore the city and its diverse surrounds from the hotel which caters to a vast range of travel needs offering a host of services and facilities. On offer is access to high speed WIFI for internet and e-mails, an efficient booking service for reservations, tours and car rentals, and friendly staff at reception for the occasional photocopy or fax.
Less than 5 minutes by car, the V&A Waterfront is always a "must" to visit. Bounce from boutiques to craft markets, ferry rides to sundowners while absorbing the history and culture that permeate the inspiring national monuments and vibrant local street musicians.
Also clearly visible from the hotel and boasting the magnificent Cape Town Stadium, La Splendida is without doubt a popular address for business and leisure guests alike.
For more information or to check availability, visit lasplendida.co.za.