Celebrate Easter in Paxos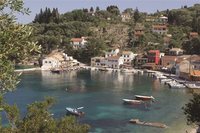 Easter in Greece is later than we celebrate it in the UK (Easter Sunday is on 5 May this year) meaning less crowds, warm weather and lower prices.
The basic reason for the difference between the two Easters is that 'Western' Easter uses a different set of calculations based on the current Gregorian calendar created by Pope Gregory, rather than the ancient Julian one, first used under the Roman emperor Julian.
Under the Gregorian system, Easter can actually be in March, something that will not happen with the Julian-based method of calculating Easter.
The Greek islands celebrate Greek Orthodox Easter in different ways, and on the Ionian island of Paxos, it is a very colourful event with candlelit processions, feasting after fasting, fireworks and the opening of the island's churches and houses to visitors.
Loggos has a lovely little church practically on the sea front, and at Easter the ceremony takes place outside, making it easier to accommodate everyone.

The week running up to Easter in the UK is known as Holy Week but in Greece it is known as Megali Evdomada (Big Week) and there always seems to be something going on during that time. The main service takes place on Saturday around midnight, after which the locals celebrate at home with a meal to break their fast.

Ionian Villas offers a wide choice of accommodation including Mermaid Cottage, which has one of the best locations in Loggos, with a private balcony from which you look out immediately over the sea to the mountains of the Greek mainland, 9 miles away.
The one-bedroomed cottage is close to a cafe bar on the open side of the harbour wall and a few metres away from Loggos port on the other side with a village bakery, choice of tavernas, minimarkets and four other cafe bars.
A week's stay from 29 April costs from £250 pp (2 sharing). Not including flights from the UK but currently around £170 pp with Easyjet plus £35 pp hydrofoil transfers from Corfu.
To view the complete range of Ionian Villas' comprehensive range of properties, visit ionian-villas.co.uk.