Proton Cars UK reports significant sales growth in 2006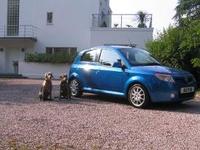 Proton Cars UK is celebrating the New Year after enjoying a successful 2006 where new car sales showed a significant increase over 2005 levels in every month of the year.
2006 has proved to be an extremely pleasing year for Proton Cars UK with an increase in total sales of over 63% in a market that has shown a general decline of 3.9%. The launch of Proton's newest car, the Savvy, in February last year helped to bolster new car sales over 2005 and the appointment of 30 new dealers has increased the coverage of the network throughout the UK.
Proton UK's General Manager of Sales and Marketing, Simon Park said, "Our results in 2006 are exceptionally good. Last year saw the launch of our first city car in the UK which has proved to be very popular with new and existing customers. Success in customer satisfaction surveys and growth to our committed dealer network added to our achievements of last year.
"Reporting our best year since 2001 shows a significant achievement by our dealer network, both old and new, and we are extremely pleased to be one of the few car manufacturers showing a consistent and considerable increase in sales throughout 2006."
Proton is looking forward to an even better 2007 with the imminent launch of its brand new 3-door supermini, Satria Neo, in February. Available with a 1.3 and 1.6 litre engine, this new car is sure to stand out in the supermini segment.
December 2006 proved to be an exceptional month for Proton Cars UK with a three fold increase over December 2005 figures in a month when new car registrations were down 14.7 per cent.