budsnaps project launched on kickstarter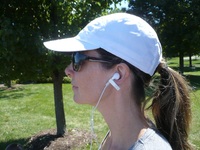 The new budsnap project is being pitched on kickstarter as the simple but clever solution to stop your Apple earbuds from falling out.
If you have ever tried to workout or run or even just move around with your Apple earbuds, you will probably have experienced this problem.
"Having bought all kinds of earbuds of all shapes, sizes and prices, not one worked for me," said Rob Bullen, the budsnaps inventor. "They either fell out or they were uncomfortable and for many the sound quality was poor." Rob set out to solve the problem himself. "I'm not a designer but I have a creative mind and I was determined to find a solution. I worked through many of different prototypes using all sorts of materials from metal, plastic, string, magnets and many more. Eventually I hit upon the final design and found someone who could get the idea from my head, on to a computer and then run some prototypes. We now have patents pending on a number of clever design features. The prototypes turned out great - they worked!!!"
This simple design totally transforms your listening experience. You can do the most vigorous exercise (workout, jog, cycle, yoga etc.) or just simply sit and chill knowing that your iPhone earbuds are going to stay in place. Not only do the iPhone/iPod earbuds stay in, but the budsnap can be moved up and down the earbud and therefore located anywhere on your ear to ensure the sweet spot for the best sound is found and kept. budsnaps have a special locking feature which means they don't pinch so they are comfortable to wear. Other budsnaps benefits also mean you can continue to wear your glasses or earrings and they are hygenic too - just wash them off after a hectic workout.
The budsnaps will be available in different colors and work specifically with the original Apple white earbuds and also with the recently launched Apple earpods.
If you like the idea of Apple earbuds that stay put, budsnaps are looking for your support to get them in to production. A pledge from as little as $10 will get you a pair of budsnaps if they meet their $11,500 total.