Explore Taiwan's cherry blossom by rail, bike, hot spring or by night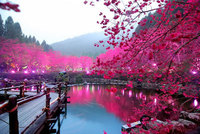 The cherry blossom season in Taiwan lasts from late February until mid-April and can be witnessed throughout the country - from Alishan in the south, to Sun Moon Lake in the centre of the country and Yangmingshan in the north.
For those who want to experience the season from a whole new angle, below are listed some of the more unusual ways to view Taiwan's cherry blossom:
By rail in Alishan
Spring visitors to Taiwan should head to Alishan National Scenic Area where over 19,000 cherry trees are in full bloom from March 15 - April 15. Visitors can take in the view on the Alishan Forest Railway which runs on a narrow-gauge track and ascends to 2,216m from an altitude of just 30m in three and a half hours. The track is 86km and three climatic zones are traversed during the train ride - journeying through tropical banana and longan plantations, to subtropical zones with Japanese cedar and tea fields and eventually to the cool temperatures of the pine forest. The journey is so scenic it has been dubbed a 'rolling botanical museum' in Taiwan. Parts of the railway were damaged by Typhoon Morakot in 2009 but the full line is expected to fully reopen in 2013.
By hot spring (or cable car!) in Wulai
Wulai is a small town in New Taipei City, famous for its hot springs, aboriginal culture, stunning waterfalls and dazzling cherry blossom displays. During March and April, cherry trees blossom along the winding mountain roads, in the valleys and alongside rivers - views that visitors can take in from the comfort of the Wulai Hot Spring - a revitalising spring that has a regular temperature of 80 degrees Celsius. The town also boasts the Wulai Cable Car which soars above the scenic Wulai Waterfall to give panoramic views of the cherry blossom below.
By bike in Yangmingshan National Park
Yangmingshan National Park boasts a wide variety of blossoms, including feasakura (cherry blossom), azalea, camellia, wild peony and peach blossoms, which all bloom against a stunning mountainous backdrop. The park is one of the most popular cycling spots in Taiwan and spring-time guests can take in the brightly coloured blossoms while cycling on one of the parks eight bicycle trails.
By night in Tainan
Formosan Aboriginal Culture Village in Tainan boasts over 5,000 cherry trees, a hybrid strain of the endemic Taiwanese cherry and the Japanese Yae-sakura. Each year, the village welcomes guests to explore the colourful displays and even offers night viewings - where a technique called 'light carving' is used to light each tree individually, creating a dramatic and colourful path.
For further information on Taiwan, visit eng.taiwan.net.tw.