Plan a Highland adventure for the family this Easter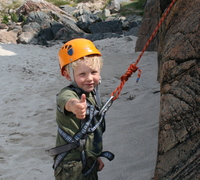 More families can now experience the thrill of their own personalised and exclusive Highland adventure – including rock climbing, abseiling, hill walking and ridge walking to wild camping, loch fishing and navigation skills - in the heart of some of the most stunning landscapes in the north west Highlands of Scotland.
New outdoor activity company Highland Adventures based in Ullapool is run by qualified climbing instructor, mountain leader and local mountain rescue team member Ken Keith.
The company offers families the opportunity to try out a specific activity, or take advantage of a fun Taster Day package which includes a little bit of everything. Half and whole day activity packages are planned to suit each individual family's needs, ages and abilities, so no-one gets left out and everyone will finish the day with a sense of achievement.
The Highlands of Scotland provide a unique rock climbing environment, and the variety of rock types and scale of cliffs can present a challenge for mums, dads and kids alike. And although families don't have to be mad to abseil down a sheer cliff face, it certainly helps.
The less adventurous can choose a gentle guided walk through scenic glens and smaller hills and learn about the history, geology and wildlife of the area, or try fishing in one of the many stunning hill lochs.
Spending the night camping out and sleeping under the stars in the wilds of Scotland is likely to appear on many people's 'things to do before you die' lists. Nothing quite beats sitting beside a remote Scottish loch miles away from anyone and anywhere, with a freshly landed trout sizzling on the frying pan and a dram in hand (adults only!) as the sun sets over the mountain peaks.
* Highland Adventures is currently offering free kids places (under 18s) with two paying adults, maximum two children per adult. And with B&B and packed lunches an added option, it makes sense for families to head for the hills of the Highlands this Easter.
For further information about all activities and packages, visit highlandadventures.co.uk. Accommodation is at Am Fuaran B&B which is surrounded by stunning scenery and situated amongst the working crofts of Strathcanaird just 10 minutes drive north of Ullapool bedandbreakfastullapool.co.uk.