Proton Satria Neo has great long term value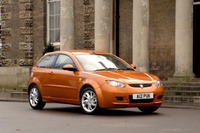 Good news for car buyers looking for a bargain in 2008 as the Proton Satria Neo follows in the footsteps of the Savvy and the Gen-2 by being announced as one of the vehicles most likely to hold its value.
According to the latest Parkers guide* the Satria Neo was placed within the top ten slowest depreciating cars for 2007. Desirability, reliability, style, reputation and mileage as well as the original cost are all key factors in determining how much a brand new car is likely to depreciate in value.
When considering which car brand to purchase, as well as looking at residual value, which in the competitive hot hatch market varies widely from 28% to 50% of the list price, consumers are also recommended to take into account the additional ownership costs that occur throughout the life of the vehicle.
The combination of very competitive list prices and strong residuals makes the Satria Neo an enticing package. With strong styling, eye catching looks and high levels of specification which include air conditioning and MP3 compatible radio/CD player as standard, there are many reasons why customers should consider the Satria Neo.
With prices starting at just £7,995 for the 1.3 SX model and £750 off the 1.6 GSX, the Satria Neo is stylish, practical and affordable and thanks to the collaboration with Lotus it offers a great driving experience.
Proton's General Manager for Sales and Marketing Simon Park said, "Not only does this achievement reaffirm the Satria Neo's position as a desirable car which offers a great driving experience, it also gives potential customers added peace of mind when considering their purchase. For a car which boasts such a high specification along with the Lotus input the Satria Neo is hard to beat."
Kieren Puffett, Editor for Parkers said, "Proton might not be one of the obvious brands people think of when it comes to cars that lose cash slowly. But the fact that the Satria Neo is a new model and is relatively inexpensive in the first place means drivers haven't lost much money to depreciation during the first year of ownership, which is a pleasant surprise for anyone who has one on their drive."