New exhibition showcases treasures from the Shakespeare Birthplace Trust collections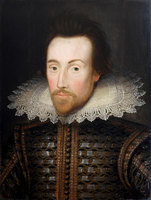 On Monday 18 March, the Shakespeare Birthplace Trust will open a fascinating new exhibition featuring unique and priceless treasures from its collections, many of them on public display for the first time. Called simply 'Shakespeare's Treasures', the exhibition will include the Shakespeare Birthplace Trust copy of the Cobbe portrait, the only portrait of Shakespeare believed to have been painted from life, on display in the UK for the first time since it was bought by the Shakespeare Birthplace Trust in 2010.
Other rare items on display for the first time include the only surviving letter written to Shakespeare (a request for a loan from Richard Quiney), a map of 'Shakespeare's county' of Warwickshire in 1576, and Holinshed's Chronicles published in 1577, one of the books from which Shakespeare drew inspiration for his characters and stories.
One of the most influential books in the English language, the Ashburnham copy of the First Folio of Shakespeare's collected plays, published in 1623, will be on view and visitors will soon be able to browse through a selection of 'virtual pages' on an adjacent screen.
The exhibition explores Shakespeare's global legacy through objects such as an 18th century fan with a French translation of the Seven Ages of Man (As You Like It), 19th century German translations of Hamlet, The Merchant of Venice and As You Like It by von Schlegal and Tieck and even a 20th century Klingon translation of Hamlet for the 'Star Trek generation.
Among the treasures are also everyday objects that date from Shakespeare's lifetime such as a pair of gloves, a medicine chest and Elizabethan gold coins. A selection of souvenirs and gifts from around the world illustrate hundreds of years of pilgrimage to Shakespeare's Birthplace.
The Shakespeare Birthplace Trust holds one of the most significant Shakespeare collections in the world. It includes over a million documents and more than fifty thousand books, as well as fine works of art, historic objects and photographs.
Delia Garratt, Head of Collections and Interpretation at the Shakespeare Birthplace Trust said, "We are very grateful for the grant from the DCMS/Wolfson Museums and Galleries Improvement Fund, and to other supporters for donations which have enabled us to create the 'Shakespeare's Treasures' exhibition and enhance the presentation of Shakespeare's Birthplace. Until now, we simply haven't had suitable space to display some of the most important items in our collection, and many of the items on show have rarely, if ever, left our vaults except on special request."
Entry to Shakespeare's Treasures is included with all tickets for Shakespeare's Birthplace.
Please visit the website at shakespeare.org.uk for more information.