Are these the best villas in the world?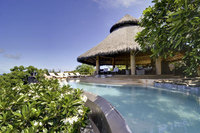 Mustique... a name synonymous with luxury, glamour, sophistication and prestige, is a Caribbean jewel offering some of the finest villas in one of the most stunning settings in the world. No expense has been spared in the design, concept and decoration of these exquisite properties.
Opium - A unique and peaceful oasis of calm offering a melting pot of Oriental, African and Balinese influences, this magnificent villa boasts 2 swimming pools, tented dining areas, a gym, home cinema, games room and even a roof tower, ideal for sunset cocktails. From £415 per person per night based on 10 sharing on a room only basis, incl 6 staff and 3 private vehicles.
Hummingbird - A contemporary spectacle designed by renowned Italian architect Paulo Piva, both drama and unrivalled privacy abound in this 8 acre retreat. There are en suite seven bedrooms one with a private spa rock pool, a state of the art media room, games arcade and fitness room and 2 vast swimming pools for the guests enjoyment. From £382 per person per night based on 10 sharing on a room only basis, incl 3 staff and 3 private vehicles.
Yemanja - A glorious villa with an open air vibe, sleeping up to 32 in a magnificent array of bedrooms and guest cottages spread throughout an awe-inspiring 19,000 sq ft. The villa is situated just 300 ft above the sea, in its own 7 acres of lush tropical gardens and boasts three swimming pools, a tennis court, a children's 'cottage', media room and a household staff of 8. From £124 per person per night based on 16 adults sharing and £28 per child per night for a 7 night stay .
Plantation House - A phenomenally elegant 6 bedroom Caribbean plantation style villa, boasting 270 degree views from its' perch high on Mustique's southernmost hillside. The 60 foot swimming pool overlooks two of the islands' loveliest bays and the pared back sophistication of this vision in white offers a uniquely luxurious villa experience. From £286 per person per night based on 10 adults sharing on a room only basis and including 6 staff, 1 jeep and 1 mule.
International flights from London to Barbados are available from £520 per person return and the domestic flight transfers from Barbados to Mustique cost £350 per adult and £270 per child for the round trip.
For further information and reservations, visit mustique-island.com.