Penguins rock with Citroen DS3 at Edinburgh Zoo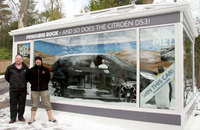 Citroen is proud to be a key corporate sponsor of Edinburgh Zoo's new penguin enclosure, Penguins Rock, and to celebrate the opening of the new habitat, members of the public can enter a special competition to win a brand new Citroen DS3.

Penguins Rock is a 21st Century enclosure providing a new and improved home for the Zoo's colony of kings, gentoos and rockhopper penguins. Visitors also benefit from enhanced viewing areas and interactive platforms.

The Citroen DS3 is displayed at Edinburgh Zoo in a distinctive 'penguin box' located next to the member's gate, on the main pathway, throughout the duration of the competition.

Rebecca Whitley, Sponsorship Manager for Edinburgh Zoo, added; "Creating Penguins Rock was an extensive project. We've had a lot of support to make the vision a reality and Citroen's donation of a DS3 means we can continue to raise money for our conservation projects around the world whilst maintaining the development of Penguins Rock."

Members of the public can enter the raffle to win a DS3 by texting ZOOCAR to 82055 (texts cost £1 plus standard network rate message) or by buying a raffle ticket from Edinburgh Zoo during their visit.

The competition runs until 30 November 2013. For more information visit penguinsrock.co.uk.