Germany's No. 1 Theme Park opens for the summer season on 23 March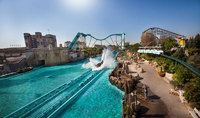 When it comes to having fun, nowhere is quite like Europa-Park. With more than 100 attractions and 11 thrilling roller-coaster rides, Germany's largest theme park is also rated as one of the world's best, with more than 4.5 million visitors every year.
Within easy reach of 3 airports, Europa-Park lives up to its name with 13 areas themed on European countries. See flamenco dancing in Spain, a space shuttle in Russia and, of course, a red double decker bus in Britain. And, there is great food, too: crêpes straight from the pan in France and freshly-baked pizza from the oven in Italy.
Youngsters love the thrills, especially the 125ft-high blue fire Megacoaster (powered by GAZPROM), with speeds of more than 60mph and full 360° rolls. Wet and wild rides include the Tirol Log Flume (Austria) and the Fjord Rafting ride (Scandinavia), while Germany offers an Elf Boat ride for little ones. Everywhere is beautifully landscaped, with waterfalls, gardens and flowers!
And, there is always something new. When the Summer Season opens on March 23, the Enchanted Forest celebrates the 200th anniversary of Grimm's Fairy Tales with six new characters! Joining the fairies, dwarfs and gnomes are Rapunzel, Doctor Know-all and the Golden Goose; listen to a goat that talks and watch a Golden Ass spit out a stream of golden coins!
Where to stay
Choose from 5 themed hotels on-site; all are 4-star and the newest is the Bell Rock, with its lighthouse and New England theme. For the budget-minded, the Circus Rolando guest house has an Italian circus theme, while the Camp Resort campsite recreates the Wild West, with log cabins and covered wagons.
When to go
Opening hours in 2013: 9 am to 6 pm daily from March 23 to November 3. Extended opening hours during peak season.
What to pay
Children under 4 are free; children (4-11 years) € 34; adults € 39.
Two-day tickets offer great value: children (4-11 years) € 63.50; adults € 73.
Children up to 12 go FREE on their birthday (ID required).
Getting there
Nearby airports include Karlsruhe/Baden-Baden and Basel-Mulhouse-Freiburg (1 hour), Stuttgart (2 hours). All have convenient shuttle buses direct to Europa-Park. By rail, Ringsheim station is 2.5 miles from the park.
For more information, visit europa-park.co.uk.