Great deals for Motability customers with Proton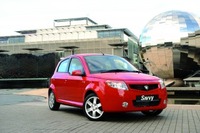 Motability customers looking for a great deal need look no further than Proton. Along with exceptional customer service and aftersales support, Proton offers Motability drivers great value for money on a new car.
Proton Savvy available with Nil advance payment until 31st March 2009
Looking every bit the stylish city car, this 5-door city car is small on the outside but big on the inside, with enough safety features and practical touches to make even the shortest trip to the supermarket enjoyable. The contemporary headlights, low front skirt, body-coloured rear bumper and chunky 15" alloy wheels suggest that this car is a great performer and the 1.2 litre engine doesn't disappoint. Reverse distance sensors are fitted as standard so you can tackle the smallest of parking spaces with total confidence and there's also an automated transmission option.
Proton Satria Neo with only £99 advance payment until 31st March 2009
This 3 door supermini is tuned for optimum performance – you'll relish the quick response of the 16 valve Lotus-engineered CamPro engine from a standing start and you'll appreciate the road-hugging, Lotus-developed ride and handling on the corners. With its highline spoiler, 16" alloy wheels and low profile tyres, you'll know at a glance that this is a driver's car. Other features enhance the driving experience, such as race-inspired bucket seats, steering wheel mounted audio controls, electric wing mirrors and parking sensors. In addition, the Satria Neo Sport option comes with a stylish leather interior and twin sports stripes in a choice of colours.
Proton GEN-2 Persona with only £99 advance payment until 31st March 2009
The GEN-2 Persona 4 door saloon delivers the superior ride and handling you'd expect from a Lotus-influenced design and it's reliable and comfortable for the whole family. The spacious interior comfortably accommodates five adults and the versatile rear seats fold flat for extra boot space. Inside the car, you can't miss the influence of the Lotus Design Studio in the styling of the controls and the quality finishing touches that make driving the GEN-2 a real pleasure.
For more information about the Proton Motability scheme or to find your nearest dealer, visit proton.co.uk