Proton the eco-logical choice for UK fleet managers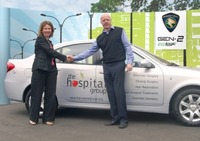 One of the UK's leading providers of cosmetic surgery has replaced its fleet with Proton GEN-2 ecoLogic dual fuel vehicles, dramatically cutting the running costs of its fleet by tens of thousands of pounds a year.
Bromsgrove-based The Hospital Group offers its patients a door to door chauffeur service to help reduce the stress of surgery. With 15 clinics in the UK, each of the 12 vehicles in its fleet cover on average 100,000 miles per year. The new fleet of Proton GEN-2 ecoLogic vehicles supplied by family run Proton dealership The Car Lot in Halesowen is due to cut the company's fuel costs by up to £65,000 per year1.
The Hospital Group Transport Manager Sarb Sandu said: "This move to using the new Proton GEN-2 is a very positive one for The Hospital Group. We travel miles and miles each day, transporting our patients to and from our private hospital in the Midlands, Dolan Park, now we can help our patients as well as helping the environment."
The Proton GEN-2 ecoLogic is dual fuel, able to run on petrol or LPG (Liquefied Petroleum Gas), an increasingly attractive alternative following the huge rise in the cost of petrol and diesel. Typically, LPG produces less carbon monoxide, particulates and nitrous oxides than other fuel sources, plus a 15-20% reduction in carbon dioxide compared to petrol. LPG currently retails at around 52p per litre1 and there are over 1,400 refuelling sites around the UK, including motorway service stations and at major supermarkets.
Humberside Police have been running LPG converted Proton vehicles for over 10 years and, with just over 300 on their current fleet, have saved over £300,000 on fuel costs per year.
Alan Hocking, from Humberside Police, explains: "We began trialling LPG vehicles in 1996 and we've never looked back. 70 per cent of our fleet that run on LPG are Proton vehicles and we encourage our drivers to run on LPG 90 per cent of the time if possible. For us, the Proton GEN-2 represents great value for money and helps us run a more economical and ecological fleet."
Simon Park, General Manager Sales and Marketing for Proton Cars (UK) Ltd said: "For fleet managers clocking up this kind of mileage, the vast cost savings on fuel are a compelling reason for businesses to consider the Proton GEN-2 ecoLogic when purchasing fleet vehicles. Even the average UK driver doing 10,000 miles per year could save over £500 per year on their fuel costs, simply by switching to LPG."
To convert a car to LPG currently costs £1,500-£2,500, but since the Proton GEN-2 ecoLogic is priced exactly the same as its petrol equivalent, drivers start saving on fuel costs the minute they drive away, without having to first offset the cost of the conversion.
The GEN-2 ecoLogic range starts at just £9,995 on the road, with an automatic version available from £10,795. There is a choice of hatchback or saloon and, until 30th June 2009, all GEN-2 ecoLogic GSX models come with free leather worth £1,000. All Proton vehicles come with 3 years/60,000 mile warranty and 3 years free RAC cover and the whole Proton range, including GEN-2 ecologic models, is available with £2,000 off the list price under the government scrappage scheme (terms and conditions apply).
For further information about adding the Proton ecoLogic to a fleet, visit proton.co.uk