Life's a picnic: Enjoy the peaks of gastronomy in Alta Badia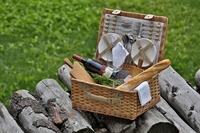 Al fresco dining doesn't come fresher or more tempting than Gourmet Picnics among the majestic mountains of Alta Badia. These culinary delights are part of the brand new Peaks of Gastronomy events, a summer celebration of food and wine that attracts visitors from all over the world.
After a healthy walk in the mountain, there is the chance to buy a freshly prepared picnic basket at any of the nine participating mountain refuges . . . then simply relax in a beautiful meadow and tuck into a delicious gourmet dish created by a Michelin-starred chef and accompanied by local meats (speck), cheese and, of course, a bottle of South Tyrol wine.
Participating this year are event promoters the Dolomitici', three of Alta Badia's Michelin-starred chefs: Norbert Niederkofler (St. Hubertus/Relais & Chateaux Restaurant at Hotel Rosa Alpina, 2 Michelin stars), Arturo Spicocchi (La Stüa de Michil Restaurant/Hotel La Perla, 1 Michelin star) and Fabio Cucchelli (La Siriola Restaurant/Hotel Ciasa Salares, 1 Michelin star). They are joined once more by Giancarlo Morelli from the Pomiroeu restaurant (1 Michelin star) in Seregno (MB) and Alberto Faccani from the Restaurant Magnolia in Cesenatico (1 Michelin star). The international contingent includes Thomas Kammeier from the Hugos restaurant in Berlin, Heiko Nieder from The Restaurant at The Dolder Grand Hotel in Zurich, Karl Obauer from the Obauer restaurant in Werfen/ Austria and André Garret from the Galvin restaurant at Windows in London. Prices start from 40€ for a picnic for two.
Get on your gourmet bike!
What better way to carry your Gourmet Picnic into the heart of the mountains than by electric bike? Thanks to an initiative that was kick-started last summer, Alta Badia's visitors can now rent an electric mountain bike that can then be left at their destination without having to be returned. The bikes are available at stations in Pralongià, Piz La Villa, Piz Sorega and Col Alto, where you can also buy a package that includes your Gourmet Picnic. The mountain cableways are open from 22 June to 22 September. Bikes can be used by children from 14 years old and over up to 18 years old with an accompanying adult) at a price of € 20 for ½ day and € 31 for a whole day. Children aged 14-18: € 13 half a day € 22 the whole day. For additional days the daily rate is € 20 for adults and € 14 for children.
Moon walking
Our love of art and food is brought together in ARTemoziun…ert y saûs on July 31 with a guided moonlight walk down the Artists' Path. The Path, which will be lit by torches, links the villages of La Villa and San Cassiano along the Gadera stream and has been transformed into a stage where local artists can display their art all year round. As well as focussing on the emotion of art, as its name suggests, ARTemoziun aims to highlight culinary art along the route – each piece of artwork has an accompanying dish of finger food, created by local restaurateurs, and accompanied by a glass of fine South Tyrol wine. The works have been created by Lois Anvidalfarëi, Giovanni Rindler, Helmuth Pizzinini, Pepi Pescollderungg, Silvester Promberger and Pepele Rinna.
Pretty in pink
Enrosadira, which comes from the Ladin and means "to turn pink", is the beautiful natural phenomenon witnessed at sunset when the Dolomites become sparkling coral. During July and August, several bars in Alta Badia are hosting live music and creating an Apenrosa (Enrosadira) aperitif, which will be served with an array of South Tyroelan products, such as snacks of cheese, farmhouse speck and pücia.
Sure of a big surprise
August 9 will see the annual picnic on Piz Sorega, 2050m above sea level, organised by Alta Badia's three Michelin-starred restaurants – a creative combination of sustainable tourism and ancient traditions in recipes that unite these Dolomitici and local farmers. In the mountain huts of Piz Sorega in San Cassiano, surrounded by the atmospheric Dolomites, guests can enjoy an informal but elegant lunch for €70, including drinks. Proceeds will go to the Provincial Farmers Association, which helps farmers in financial difficulty. Visit altabadia.org
Ladin
Erica Pitscheider, from the Sotciastel farm above the town of Badia, has been sharing the hitherto secret ingredients and methods of Ladin cookery for several years now. Under his guidance you will discover this cuisine is actually simple, wholesome and easy to prepare. Lessons are held every Wednesday from 10.30am. The most popular recipes are panicia soup, cajincì t'ega, which are ravioli with cheese, les turtres, typical fried snacks filled with spinach and ricotta or sauerkraut and les furtaies, which are sweets traditionally prepared for weddings. For more information and bookings visit altabadia.org
It's possible to also enjoy typical Ladin dishes in farmhouses, such as Maso Runch, a 19th century home (tel. 0471 839796) or the Alfarëi farm run by the family of Tone Piccolruaz (tel. 0471 839825). This is one of the oldest buildings in Alta Badia, built in the 13th-14th century. In La Val there is also the Ciablun farm, with accommodation (tel. 0471 843094), or the Lüch de Survisc farmhouse (tel. 0471 843149). Ladin tasting menus are on offer in many restaurants in Alta Badia – a brochure is available from the local tourist offices.
Taste-based trips
This year there are also guided "taste-based excursions", including a trip to a dairy farm high in the mountains, a Nordic walking excursion, which offers a sportier version of a simple stroll combined with the new Kneipp baths on the mountains and dishes created by Michelin-starred chefs. There is also the Cultural Route that passes the oldest farms in Badia, where you can learn about local architecture and agriculture, before enjoying a lunch of some of the finest Ladin dishes.
Finally, there is a visit to the working mill of Rüdeferia in San Cassiano, with a typical speck-based snack, an excursion to observe medicinal plants with an Alpine herb-based lunch at a dairy farm and a sunset walk with an Apenrosa aperitif at the Bioch refuge, 2000m up in the mountains.
For more information on these Peaks of Gastronomy events, visit altabadia.org.