Budapest is best bet for pound-stretching city break as sterling slides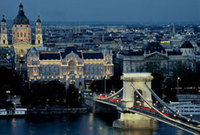 Low prices and sterling's stability against the forint have helped Budapest power past Riga and Prague to take the top spot in Post Office Travel Money's annual City Costs Barometer. For the fifth consecutive year tourists looking for a bargain break this spring will find prices lowest in Eastern Europe – with eight of the top ten barometer places filled by eastern cities.

At £134.76 for 12 typical city break items – including meals, drinks, two nights' weekend accommodation, sightseeing and city transport costs – Budapest has emerged as best value in the Post Office survey of 25 cities. Prices in the Hungarian capital are less than a third of those in Europe's most expensive cities - Stockholm (£420.36) and Copenhagen (£440.45).

Along with Prague, Budapest is also the only city where the holiday pound is worth more than a year ago because sterling has risen 3.1 per cent year-on-year against the Hungarian forint and 2.9 per cent against the Czech koruna.

Lithuania's capital Vilnius (£140.99), tipped as a city to watch in the recent Post Office Holiday MoneyReport, is runner-up, ahead of Warsaw (£151.69) and Riga (£155.34).

However, the report reveals that prices have risen in 22 of the 25 cities surveyed with the biggest increases in Vienna (+26.3 per cent), Boston (+28.4 per cent), Riga (+30.7 per cent) and Stockholm (+33.0 per cent). The three exceptions are Berlin, where prices are down 1.5 per cent, Prague, where they have fallen by 6.8 per cent, and Lisbon where spending money will stretch 19.1 per cent further.

Lower sightseeing prices have helped Lisbon rise three places up the barometer table to take fifth position and make the Portuguese capital the cheapest eurozone city. Post Office Travel Money again found wide variations in prices between the 10 eurozone cities surveyed. Barometer items that total £344.25 in Amsterdam and £350.43 in Rome, the most expensive cities in the eurozone, are more than double the cost in Lisbon (£166.43).

Andrew Brown of Post Office Travel Money said: "Rising prices in most of the cities we surveyed, combined with the falling value of sterling, make it more important than ever to check prices for key items like meals, drinks and sightseeing before booking as these are costs that most city break tourists cannot avoid.

"There are big price variations across Europe – not just in the eurozone. This means UK holidaymakers can make their pounds stretch further by choosing a cheaper capital like Lisbon or Budapest and it seems that many people are doing just that as Post Office sales of Hungarian forint have surged by 141 per cent in the year to date, compared with 2012."

With kuna sales up 40 per cent year-on-year, Croatia is another destination where demand is increasing and consumer research conducted for the barometer reveals that it is popular for city breaks as well as beach holidays. Dubrovnik topped a list of 12 'emerging' city destinations that tourists would most like to visit and, despite a 12.9 per cent rise in its barometer total to £168.20, the city remains one of the best value options in sixth place.

Other 'emerging' cities named by survey respondents were Moscow, Krakow and Abu Dhabi.

When asked which cities they would visit if money was no object, New York, Sydney and Rio were top choices. However, the Big Apple (£541.23) proved to be the most expensive city surveyed for the City Costs Barometer. By contrast, in the USA Boston prices (£459.56) are 15 per cent cheaper and Chicago's barometer total (£352.98) is 34.8 per cent lower – mainly because of high Manhattan hotel prices compared with the other cities.

Accommodation costs were identified as the most important factor when choosing a city by almost all of the holidaymakers surveyed (94 per cent) – a significant point as the barometer research found significant price differences between the 25 cities. Led by Dubrovnik (£61) and Budapest (£63), nine cities offer two night three-star city centre accommodation for under £100. At the other end of the scale, Rome (£201), Amsterdam (£211), Copenhagen (£249), Boston (£300) and New York (£355) are all priced at over £200.

Other factors identified as important when deciding on a city destination were travel costs (92 per cent), local flight departures (85 per cent) and the cost of eating out and drinks (81 per cent). Furthermore, when survey respondents were asked what would put them off choosing a city, over a third (34 per cent) named high prices for food and drinks.

Prague looks to offer best value for meals and drinks. At £30.44 for a three-course evening meal for two including a bottle of wine plus individual drinks that include coffee, beer, Coca-Cola and a glass of wine, the Czech capital again rates as cheapest, just ahead of Budapest (£30.68). Copenhagen, which boasts some of Europe's top restaurants, will set visitors back over four times as much (£129.33) as Prague or Budapest – and Stockholm (£138.60) will cost more still. In the eurozone Lisbon (£43.31) and Barcelona (£50.18) are better value than Bruges (£85.99) or Rome (£76.54).

Belfast is again the cheapest of three UK cities surveyed. Its barometer total of £218 helped it to 10th place in the barometer table, ahead of Edinburgh (£228.25) and London (£311.50). Free entry to museums and galleries has helped keep prices down in all three capitals. Across the border from Belfast, the higher cost of accommodation makes Dublin (£270.36) 24 per cent more expensive than its Northern Ireland competitor.

Other City Cost Comparisons At A Glance:

Getting around:Paying to get to and from the airport or train station costs least in Vilnius (£1.14) and Riga (£1.39). By contrast, transfers cost as much as £35.57 in Bruges. 48-hour travel cards can significantly cut the cost of getting from A to B in a city and those in Istanbul (£4.02) and Tallinn (£4.67) are bargain-priced. By comparison, a Stockholm travel card costs £25.40. A sightseeing bus tour costs a lot in New York (£37.68) but around a sixth of the price in Dubrovnik (£6.31).

Costs for culture vultures: Vilnius emerges as the city where cultural sightseeing comes with the lowest price tag – just £4.57 for entry to its leading museum, art gallery and heritage attraction. Copenhagen, costly for meals and drinks, is a bargain for culture (£8.04) and Dublin is also good value (£8.41). By comparison, Amsterdam costs over four times as much (£36.45), while New York is most expensive of all (£50.01).

More than 70 currencies can be pre-ordered at over 11,500 Post Office branches or online at postoffice.co.uk for next day branch or home delivery. 25 currencies are available on demand at 1,600 larger Post Office branches, while over 4,000 branches offer US dollars and Turkish lira and 10,000 offer euros over the counter.