Surfing in the Azores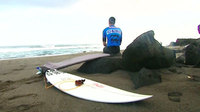 It is the diversity of the Azores which makes it an ideal place to surf.

The 9 islands give you coastlines which can be high and steep with rocky bottoms or simply plain and sandy. This means you get various types of quality waves - with remarkable consistency.
Climate-wise, the constant moderate emperature of air and water are ideal for the surfing throughout the whole year, particularly during the winter.
Besides its natural characteristics, the archipelago also offers various other attractions for those who enjoy surfing. For example, many of the great surf spots are close together. Also, as the islands surfing attributes are still relatively unknown it is not over crowded.
All the islands have waves and if the "point breaks" and "beach breaks" of the islands of Santa Maria and S. Miguel are the ones that achieved international fame, it is on the island of S. Jorge, with its fajãs and "reef breaks", that the waves are longer and tunnel shaped.