BBC Africa ignited our passion for wildlife conservation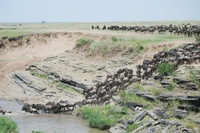 BBC Africa had everybody glued to their safari seats, and according to Acacia Africa, it ignited our passion for wildlife conservation. The success of the six part series prompted a corresponding increase in interest for Acacia Africa's voluntours, overland expeditions and small group trips, the safari specialist's itineraries including, visits to various projects en route through Africa.

Leanne Haigh, Sales & Marketing Manager at Acacia Africa, comments "The series showcased the raw nature of Africa and the content appealed to a huge number of people. David Attenborough brought back those magical safari moments that make Africa a one-of-a-kind continent, and the last installment based on the future of the wildlife, many of which are on the endangered list, really motivated viewers."

With so many people hoping to make a difference, the tour operator has released a top five of their most popular wild "life" changing holidays for travellers with a conscience.

The 26-day Masai Mara Conservation & Wildlife Safari voluntour runs year round, and when the Annual Migration is at its height the research aspects are undoubtedly more exciting. The first 13 days of the trip are dedicated to preserving the wildlife in Kenya's best-loved game reserve, volunteers also learning from Masai guides about life in the African bush, and assisting and empowering the local tribal communities to value their environment through conservation education. Game drives in the Mara, Serengeti and Ngorongoro Crater and a stay on the sun kissed island of Zanzibar complete the holiday. From £1,995pp (two sharing) + local payment from £755pp. Starts Nairobi – ends Dar es Salaam.

Hluhulwe-Umfolozi is home to the world-renowned "Operation Rhino" project and was one of the first game parks to be recognised in Africa. Game viewers are almost certain to catch a glimpse of one of the best-loved Big Five, while at the same time adding much needed cash to the conservation coffers. 7-day Kruger, Swaziland & Durban small group safari from £585pp (two sharing) + local payment from £288pp. Starts Johannesburg – ends Durban.

What started out as a research and breeding centre for the cheetah is now a haven for a host of other endangered species including, the wild dog. Situated between the Drakensberg Mountains and the Kruger National Park the Kapama Private Game Reserve is located on 13,000-hectares in South Africa's Limpopo Province. All the big five reside here, but even more tempting than a game drive is the opportunity to watch cheetahs being released into the wild. 7-day Kruger & Victoria Falls from £590pp (two sharing + local payment from £248pp. Starts Johannesburg – ends Livingstone.

South Africa's Thanda Private Game Reserve is home to the Big Five. Budding conservationists provide pivotal data for the Thanda Foundation and the African Lion Environmental Research Trust - major highlights including, monitoring rhino movements and the behaviour of a newly introduced herd of elephants, and game capture. Kruger and Hluhluwe/Umfolozi safaris are also included. 20-day Kruger, Swaziland and Big Five Conservation voluntour from £1,875pp (two sharing) + local payment from £278pp. Starts Johannesburg – ends Durban.

There's more than one type of adventure on offer in Livingstone, the Zambian city catering to both bungy jumpers and big cat lovers. While lions are on the vulnerable as opposed to endangered list, this is one of the best places to play your part in an organisation dedicated to their rehabilitation and eventual release into the wild. Opportunities to go walking with lions are available on the 7-day Africa Insight overland expedition from £375pp (no single supplement) + local payment from £172pp. Starts Livingstone – ends Johannesburg.

For more information, visit acacia-africa.com.