Improve your home with a Clever Closet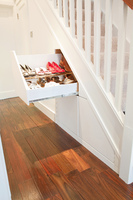 As spring approaches, UK homeowners are looking at new ways to enhance living space and add value to their homes in an uncertain property market, and one simple solution is the Clever Closet modular understairs storage unit from Smart Storage, now available in a DIY kit form.
Endorsed by Dragons' Den, having won investment on the fiercely competitive TV show in Ireland last year, the Clever Closet is an easy answer to the persistent storage problem that all homeowners face.
This neat and stylish system, which consists of three discrete sliding drawers to fit under your stairwell, transforms unused space and adds functionality to an otherwise awkward place; two of the key themes identified by property experts as the most valuable remodelling tasks within the home.
In addition, the Clever Closet dramatically improves the appearance of the hallway, hiding away the everyday clutter with its unobtrusive but sizeable drawers, which can be as deep as 70 cm, storing everything from school bags and shoes to the vacuum cleaner.
Director Paul Jacob said, "We've been delighted with the response to the Clever Closet in the UK and whilst we have local suppliers across the country who are trained to fit the units, we are seeing unexpected demand for the kit form, so that DIY experts can install it themselves.
"When ordered as a self-assembly unit, it is supplied with full instructions and is built to exact specifications, ensuring a perfect fit for the home. Orders are usually dispatched within seven to ten days, so it's a quick and easy way to improve your home with a custom-made unit."
The Clever Closet self-assembly unit retails at £320 and is supplied in a simple kit form which can be ordered online. So, if you're one of the 10 million* or so Britons who are planning to do some DIY on the Easter weekend, you can install it yourself. Alternatively Clever Closet has expertly trained fitters available across the UK.
Find Clever Closet at the Ideal Home Show at Earl's Court London until 1 April, stand 1M28.
To order visit clevercloset.co.uk.