BBC Two's Coast series uncovers Guernsey's incredible history of invasion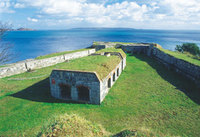 Guernsey's fascinating history of invasions will showcase on Coast's new series; 'Invaders of the Isles' on 3 April at 8pm on BBC Two. The episode tells surprising and never heard before stories of the risks and rewards of invasions on Guernsey over the centuries. Writer and broadcaster, Nick Crane, takes us through the remarkable history of Guernsey, with many signs of the invasions still visible today.
The hour long episode will bring the German Occupation in Guernsey back to life; a period which lasted for five dark years from 1940-1945. Highlights include the opening of a German Bunker which has been sealed since the end of WWII and interviews with two survivors from the occupation. Nick will also venture further back in time to the Napoleonic wars and learn how the islanders turned threat of invasion into a money-making opportunity through privateering.
Where to see traces of the German Occupation and Napoleonic Wars
There are still many visible signs of the German Occupation across the island, demonstrating the deep impact of the invasion on island life. The museums and sites can be visited individually or on a dedicated Occupation Tour with Guernsey Tours (guernsey-tours.com).
The two Occupation museums are the best place to start. The La Vallette German Underground Museum is housed in a complex of tunnels built by slave labourers during the occupation as a refuelling station for U-boats. The museum is packed with military and civilian memorabilia including Red Cross food parcels delivered by a Swedish ship and posters detailing arrangements for the evacuation of the island in 1940. The German Occupation Museum in Guernsey's Forest Parish has the Channel Island's finest collection of world war relics with videos conveying stories and experiences of the islanders.
The German Underground Hospital is one of the largest complexes built during the Occupation to treat German military casualties. Dug out of solid rock from European slave workers, the complex covers 7,000 metres and was in operation for just nine months before the occupying forces surrendered.
For a closer look at where the German forces would have been in action, visit the five storey Plienmont Observation Tower on Guernsey's western tip; Fort Hommett, a coastal defence gun casement bunker and the dominating Castle Cornet in St. Peter Port, which was occupied by German troops in WWII.
For more details on the German Occupation museums and monuments visit: occupied.guernsey.net/museums.html.
Those looking to get closer to privateering warfare 200 years ago during the Napoleonic wars can book a scuba diving trip to one of Guernsey's many wrecks. Donkey Diver's (donkey-divers.com) offers four different wreck dives priced from £250 per dive.

A number of Napoleonic forts and gun batteries also still survive. Head to Fort Le Marchant, which juts out to sea on the north coast; the Mont Chinchon Battery which was built as the threat of possible invasion from France increased during the French Revolutionary and Napoleonic Wars and Fort Pezeries on Guernsey's south west coast, which can only be reached on foot by coastal path and has three Napoleonic guns pointing out to sea.
Getting there
Superbreak offers a two night break for two to Guernsey with a stay at the five star Old Government House Hotel in St. Peter Port and return flights from London Gatwick from £285 per person. To book visit: superbreak.com.
Flights to Guernsey from London Gatwick are available with Aurigny (aurigny.com) and Flybe (flybe.com). Return flights start from £74 per person including mandatory taxes and charges. Departures from several regional airports are also available and sea crossings are available from Poole and Weymouth (Weymouth crossing available from July).
For further general information on Guernsey, visit visitguernsey.com.