New offers from Honda on all new-for-2013 models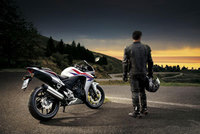 We've all been feeling the freeze throughout the first part of this year but things are about to heat up as Honda (UK) introduces a range of great new offers on each and every motorcycle and scooter in the range, including all new-for-2013 models.

Sports focussed riders have the perfect excuse to dust off their summer leathers as the Honda CBR1000RR Fireblade remains at 0% APR, over a period of 36 months, whilst the new 2013 CBR600RR supersports machine enters the frame with a 0% APR finance offer over the same term.

The trio of new 500cc machines from Honda, the CB500F, CBR500R and CB500X are all arriving with an attractive finance offer of 3.9% APR over 36 months and a minimum deposit of just £99! With a hugely tempting OTR purchase price of under £5000 for each of three models respectively, monthly payments can be as low as £134 per month. That represents a huge amount of bike for the money in anyone's book.

With the weather improving and fuel prices continuing to rise, it's beginning to make more and more sense to commute on two-wheels and Honda provides the perfect machines on which to do so. The UK's two best selling bikes, the CBF125 and PCX125 are also available with a minimum deposit of just £99, generating monthly payments of just £75 over a 36 month term.

With fuel efficiency figures of 129mpg for the PCX125 and 160mpg for the CBF125 (WMTC), if commuting under 10 miles each way per day – over a five-day working week – it's possible to run both the PCX125 and CBF125 on less than £5 a week. And even when you factor in road tax of only £17 a year for a 125cc (or less) two-wheeled machine, it adds up to less than £100 a month to own and run a brand new Honda.

With the ease, convenience, practicality and excitement offered by scooters and motorcycles, coupled with Honda's great finance offers to make buying a Honda even more affordable, now is a the perfect time to get on to two-wheels with Honda.

For further details on the latest offers, or for more information on Honda's range of scooters and motorcycles, genuine parts, accessories, visit your local Honda Motorcycle dealer, visit honda.co.uk.