Honda announces major upgrade for CRF450R and CRF250R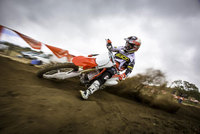 The CRF450R and CRF250R are renowned winning packages with a combination of power, agility and reliability that makes them popular with professional racers and hobby riders alike. Today Honda releases details of upgrades to these two models for 2014.

Following last year's major upgrades to the CRF450R, the CRF250R has now been given extensive improvements for even greater usability ahead of the 2013-14 season. A completely new mass-centralised chassis plus upgrades to the engine and suspension enhance rider control and feel, both on the ground and in the air.

The flagship CRF450R, meanwhile, has received further engine development for greater torque, throttle feel, top-end power and over-rev. Its 48mm KYB air front fork has also been upgraded for improved oil flow and damping characteristics.