Rosehips to the rescue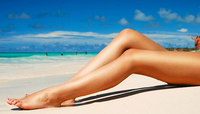 It's hard to believe, with the terrible weather we've been having, that summer is just around the corner. But with the clocks going forward it's now time to start thinking about getting ourselves ready for summer dress season. For many this means looking to lose a little weight, that may have crept on over the winter months, and getting our skin back to its best. Whilst there's nothing that can beat eating well and exercise for the former, nature can provide a helping hand when it comes to our skin.
Rosehip oil has recently become famed for its use as a moisturiser, but research shows there is more to the hedgerow fruit than simply beating dry skin.
Those who have been using rosehip oil have been finding it has an ability to help smooth scars and stretch marks and it is being touted as a new natural wonder oil. The reasons behind this are thought to be three fold. The oil is found to be particularly rich in essential fatty acids, the building blocks for healthy skin cells and one of the foundations of the protective layers the skin forms. Secondly, rosehips are also crammed with substances called bioflavonoids. Bioflavonoids are found in certain plants and known to be powerful anti-oxidants that have been shown to protect the body and skin against harmful substances called oxygen free radicals – the main culprits thought to be responsible for aging skin.
What really puts rosehip oil in a class of its own however is the fact that it contains a substance called tretinoin, a Vitamin A derivative. Tretionin was tested for its effects on skin in the US by scientists and it was found that those using it are seen to have fewer wrinkles and smoother skin tones.
One company has utilise rosehips anti-stretch mark properties in a range of skincare products called Phytacol. Phytacol comes in an oil and lotion format and has been specifically created by experts to help beat stretch marks. It combines the active ingredients of the whole rosehip extract, and rosehip seed oil, with other goodies for the skin (including vitamins A and E, and natural oils of apricot kernel, lavender, lime and geranium) to create a product that really packs a punch when it comes to beating stretch marks. Both the lotion and oil are easily absorbed into the skin and contain no mineral oil, synthetic fragrances or colours.
Phytaoil costs just £9.99 for 60ml and Phytalotion £8.99, for further details, visit phytacol.com.