Office's eco rating after refurb goes green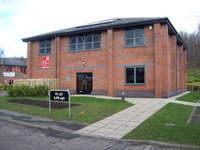 A unit at a leading South Yorkshire business park has achieved Band A status for Energy Performance following a refurbishment programme involving a combination of renewable and low energy measures.
Mountcity Group has speculatively refurbished Unit 4 of Rotunda Business Centre, part of Thorncliffe Park Industrial Estate, which is being marketed by Knight Frank.
The refurbishment work, including solar panels, insulation and eco-friendly heating and lighting systems - has seen the 3,478 sq ft building achieve the Band A status. Energy Performance Certificates (EPCs) are part of the Energy Performance of Buildings (EPB) Regulations and rank a building's energy efficiency on an A+ to G rating, similar to those used for electrical appliances.
Rebecca Schofield, partner at the Sheffield office of Knight Frank, said: "Band A status takes Unit 4 at the Rotunda to a very high level of environmental efficiency. Environmental efficiency is an increasingly important factor, not only for landlords but for discerning tenants, too.
"Mountcity's speculative investment in the unit at Rotunda and the refurbishment work will not only reduce the building's environmental impact but will improve the business bottom line over time for the tenant by making it a more cost-effective building to run."
Ken Atkinson, Managing Director of landlord Mountcity Group, said: "The refurbishment programme at Rotunda involved reducing heat losses by substantially increasing the insulation in the roof and using lightly tinted glazing. Heat is provided by air source heat pumps, which can offer 3 kW of heating for 1kW of electricity used. These are supplemented by solar heating panels, while an electric back-up is provided for security of supply."
Other eco-friendly enhancements at Unit 4 include solar voltaic panels to generate green electricity to and offset the demand required from the national grid. Heat is stored in a fully insulated cylinder for distribution to radiators featuring thermostatic valves and further controls are provided for each floor of the building. Hot water is provided using the same heat sources and a high surface area coil in the heat store.
Knight Frank announced at the end of last year that all industrial accommodation at Thorncliffe was 100% occupied. As well as Unit 4 at Rotunda, Thorncliffe Business Park offers other high quality office accommodation, with available suites ranging from 500 – 10,000 sq ft.
For more information, visit knightfrank.com.