Peugeot UK sales up as desire for 208 continues to grow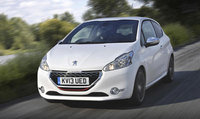 The first quarter of 2013 delivered continuous growth for Peugeot UK with the new 208 leading the appeal for the Brand's stylish products, with sales up 6.3% when compared to the same period in 2012. The UK new car buyer is not only looking for stylish products that offer great value but also demands vehicles with low CO2 emissions and Peugeot is more than able to deliver. The PSA Peugeot Citroën Group was once again CO2 market leader in 2012 with an average of just 122.5g/km.

Peugeot has an invigorated product range, led by the 208, with the imminent arrival of the 'top-of-the-range' and highly-equipped 'posh XY' and the 'performance GTi' models due in the UK soon. The other top selling models in the range – the compact 107, 308 hatchback, and 3008 Crossover – also remain very popular with customers.

Peugeot LCV's seven-year sales growth continues - from 4.8% in 2007 to 7.8% and in the first quarter of 2013 rising by 6.5%. The Peugeot Partner is the best-selling small van in the UK (while the PSA Peugeot Citroën Group leads van sales in Europe).