Sanibel voted as one of the top ten islands in the U.S.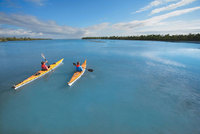 Sanibel Island on Florida's Gulf Coast has been named in TripAdvisor's 'Top Ten U.S. Islands' list for 2013. The islands are chosen on account of TripAdvisor readers' best choices and highlights that Sanibel never fails to impress for first time and return visitors. Sanibel's stunning beaches, which have some of the best shelling in the world, coupled with its nature reserves, biking and kayaking trails and family-friendly atmosphere are the key factors placing Sanibel in this position. Families looking for new ideas for May half-term and summer holidays can book good value packages to the island from £860 per person.
TripAdvisor named Bowman's Beach, the J.N. "Ding" Darling National Wildlife Refuge and The Bailey-Matthews Shell Museum as Sanibel's top attractions, which offer the perfect combination of watersports, beaches, nature and education to keep all the family happy on a summer holiday.
Bowman's Beach
Bowman's Beach is seen as the quintessential Sanibel beach; a long stretch of white sand, which is protected and underdeveloped giving visitors a remote and off-the-beaten-track feeling. Despite this, the island is easily accessible with a causeway from the mainland and there is plenty of parking, picnic tables and nearby bathroom facilities at Bowman's Beach. Families will be able to enjoy shelling, an activity that Sanibel is famous for, with 400 types of intact shells on its beach. Look out for the rare brown speckled junonia, which is considered a once in a lifetime find! Bowman's Beach is also one of the best spots for watching the sunset over the Gulf of Mexico. Sanibel's other top beaches include Blind Pass and Lighthouse Beach.
J.N. "Ding" Darling National Wildlife Refuge
The J.N. "Ding" Darling National Wildlife Refuge covers nearly two-thirds of Sanibel and is made up of forest and wetlands. Families can join driving, walking and biking trails through the refuge which range from half-a-mile to four miles long, suiting children of all ages. There are observation towers along the way for spotting alligators, manatees, turtles, pelicans, ospreys, spoonbills and colourful butterflies. To get up close to the animals, families can book a kayaking tour with an expert guide through the refuges' waterways with Tarpon Bay Explorers. The hour-and-a-half trip costs £20 for adults and £13 for children. For more information visit tarponbayexplorers.com.
The Bailey - Matthews Shell Museum
As well as some of the best shelling beaches in the world, Sanibel has the biggest shell collection in North America at the Bailey-Matthews Shell Museum. The museum features more than 30 exhibits of shells from around the world ranging from 'Shells as Money' to 'The Scallop: Queen of Conchology', with interactive exhibitions and videos for children. For more information visit shellmuseum.org.
Families looking for a thrill ride can book a trip on the Sanibel Thriller, a 55-foot motor yacht offering boat trips around Sanibel, Captiva, Pine Island Sound and the waters of the Gulf of Mexico. The boat trip lasts an hour-and-a-half and costs £28 for adults and £23 for children. Reservations are essential and can be made at sanibelthriller.com.
Getting there
Expedia offers a seven-night trip staying at the Sanibel Inn for £860 per person from 25 May- 1 June (May half-term). This includes return flights from London Heathrow to Southwest Florida International Airport via Dallas and accommodation in two rooms. A trip during the summer holidays from 20-27 July costs from £1,131 per person including accommodation at the West Wind Inn on Sanibel and return indirect flights from London Heathrow to Southwest Florida International Airport. Prices are based on a family of four travelling. To book visit expedia.co.uk.