How to make the most of your natural beauty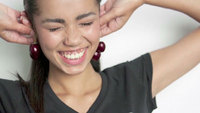 Leah Hibbert, the Head Scout at Elite London gives tips on how to make the most of your natural beauty.
As Leah says "there are a lot of tricks than can help you get a career in the model industry" and she reveals some of them here.
The video is released as the 'Elite Model Look 2013 competition' is launched, sponsored by Colgate MaxWhite ONE.
Prizes on offer include an Elite Model Management contract, a trip to NYC, or to become the new face of Colgate MaxWhite ONE
Colgate MaxWhite ONE is the official sponsor of the Elite Model Look 2013 competition, which is now searching the nation for tomorrow's top supermodel talent. Colgate MaxWhite ONE and Elite Model Look have launched the UK arm of the most prestigious modelling contest in the world, which offers thousands of girls the opportunity to achieve their dream and to follow in the footsteps of top Elite models such as Cindy Crawford, Stephanie Seymour and Gisele Bundchen.
A unique springboard into the modeling universe…
The Colgate MaxWhite ONE and Elite Model Look teams are touring the UK and Republic of Ireland (Dublin, Manchester, Nottingham, Thurrock, Gateshead and Glasgow) with six castings that will take place from April to June. Girls, aged between 18-24 and guys, aged between 18-28, are invited to attend the castings, meet the Colgate and Elite Model Look scouts, have their make-up done and have their photo taken to be entered into the competition. Friends and family will also have the opportunity to get an Elite Model Look model make-over at the castings.
The perfect combination of professionalism, elegance and beauty…
At the end of the UK tour, 100 contestants will be selected to participate in a National Casting that will be held on June 22nd in Central London. Judging criteria will include photogenic qualities, personality, bright white smile and natural beauty, as well as how their look fits in with current trends.
At the end of the day, the Colgate MaxWhite ONE and Elite Model Look jury will choose 24 finalists to participate in the UK Final Model Bootcamp and Catwalk Show. The male and female winner will receive a modelling contract with Elite Model Management UK, as well as a spot in the prestigious World Final for the female winner, which brings together 61 winners from 61 countries, all competing to secure a highly coveted three year contract with the Elite Model Management global network. One lucky finalist will also win the chance to be the new face of Colgate MaxWhite ONE for its next advertising campaign.
A once in a lifetime opportunity…
For those who aren't quite ready for a modelling contract, but still love taking a great photo, visit colgatemaxwhite.co.uk for the opportunity to win a trip for you and three friends to one of the fashion industry's meccas – New York City. Simply upload your photo and ask your friends to vote for you, and every vote will bring you another entry closer to winning this amazing experience.
#GetNoticed even off the catwalk…
If there's one thing that never goes out of fashion, it's an attractive bright white smile. Follow the A-list lead and boost your confidence to the max with Colgate MaxWhite ONE toothpaste - clinically proven to give you a whiter smile that lasts.
Make your smile your best accessory and #getnoticed with Colgate MaxWhite ONE. Visit colgatemaxwhite.co.uk for full terms and conditions and to find out more about the Colgate MaxWhite ONE in association with Elite Model Look UK 2013 competition, how you can become the face of Colgate MaxWhite ONE and how to enter the Colgate MaxWhite ONE New York competition.