Citroen reveals new DS Wild Rubis concept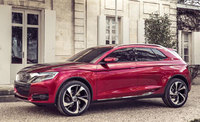 Citroen has unveiled the DS Wild Rubis, a unique and captivating concept which points to a future DS SUV. The concept will debut at the Shanghai Motor Show later this month.

The latest expression of the DS line, the DS Wild Rubis joins DS3, DS4, DS5 and the Numéro 9 concept, complementing the distinctive series with unique and inimitable style. Stimulating imagination and emotion, the concept breathes sophistication with an exceptional finish and utmost attention to detail.

A bold statement, the latest chapter in the DS line is as wild and rebellious as it is refined and sophisticated. Designed to be driven by the full-hybrid, plug-in technology, DS Wild Rubis is packed with technological innovations.

A new expression of French luxury
A new vision of Citroen's premium DS line, DS Wild Rubis' unique profile combines the powerful appearance of an SUV with the refined codes of the DS line.

With impressive dimensions – 4.7m L, 1.95m W and 1.59m H – a wheelbase of 2.9m and planted on 21" wheels, DS Wild Rubis expresses power and strength, inviting onlookers to step inside and explore a feature-rich and versatile cabin suited to the needs of executive customers.

The car's silhouette is highlighted by a unique chrome signature on the side. The roof bars accentuate the impression of height, whilst hinting at power and performance, before blending into the bodywork and flow of the profile of the rear wing.

A hypnotic stare
Featuring the new front-end identity inaugurated by the Numéro 9 concept, the face of DS Wild Rubis is characterised by the three-dimensional radiator grille decorated with a DS emblem.

The grille flows into unique full-LED headlights, made up of three mobile lighting modules and surrounded by scrolling indicator lights at the base and a tuning fork-shaped light signature on the edge – a feature that gives the Wild Rubis a bold, hypnotic and unique stare.

A unique signature
The new arrangement of the lights at the rear appears to be part of the raised tailgate. Just like a jewel, the glass of the rear lights is encased in chrome, further enhancing the light signature, whilst a subtle lighting effect on the DS emblem creates an impression of depth. The foot of the sculptural rear tailgate is highlighted by the chrome finish, incorporating the twin exhaust pipes.

The very essence of the DS line
The utmost care and attention to detail in its creation makes DS Wild Rubis a worthy addition to the DS line. The most expressive features include the side chrome signature, the multitude of sculptured details in the metal, the front and rear light signatures and the finish of the materials, such as the guilloche pattern on the hub caps.

The finely etched DS pattern fades away in the centre of the wheel, allowing the textured paint to stand out in all its splendour. The rear lights are also decorated with a chrome DS emblem embedded in black and engraved with the DS pattern.

The hues and materials of the DS Wild Rubis concept present a wild yet sophisticated appearance. The colour of the ruby red bodywork changes with the intensity of light with a rich tone completing the chromatic sections of the deep and emblematic DS colours.