MC Group invests £12 million on rental fleet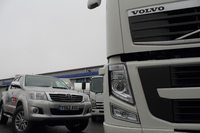 MC Group, commercial vehicle dealer, have made an investment of over twelve million pounds into its rental division.

The expenditure consists of a large addition to the existing fleet for spot hire and contract hire. The biggest order placed is for 100 new Volvo FH's. Whilst already being one of very few companies to offer Volvo on a spot hire basis MC will now be one of the first to offer Volvo's new star attraction to eager operators. The new FH was launched in September last year and despite being hugely sought after is now only just hitting UK roads.
MC group sales director, Dave Hutchins says, "The FH is now at the forefront of truck innovation and driver acceptability and is therefore an excellent fit with our high quality rental fleet. This investment is very important as interest and demand for the new FH has been particularly widespread and we believe we would be doing our customers a disservice if we were not acting to meet their needs as quickly as possible. "
"The specs of our new FHs' include XL cab, 500bhp engine, 6x2, class leading I-shift gearbox all with excellent driveability and a roomy cab for comfort, chosen to offer maximum versatility."
This investment also includes over 30 Volvo and Isuzu rigids. These range from 7.5 to 26 tonnes and include curtainsiders, boxes and fridges, all with tail lifts. "This carefully selected range is well known for key factors such as reliability, driver acceptance and fuel efficiency" explains Hutchins.
Perhaps the most diverse new offerings come in the shape of light commercial vehicles, which is a new step for MC. The additional vehicles include 4x4 pickups, panel vans, both dry and refrigerated.
Hutchins says "We identified a need for light commercial vehicles on short term basis and whilst we were providing this on a long term hire basis it was not always the best solution for our customers. Our new fleet demonstrates the steps we have taken to rectify this. Things can change with the drop of a hat in our industry and this added diversity will allow us to offer much needed flexibility to our customers."
This announcement coincides with a name change for the rental division of the group. Previously known as MC Truck Rental Ltd the company will now just go by the name MC Rental Ltd. According to the company this is an obvious step to better encompass their complete offering. "Updating our name sends a clearer, less confusing message to our customers" says Hutchins.
Alongside the increasingly diverse fleet MC can now offer comprehensive insurance as an option to customers in some of their rental agreements. Hutchins summarises, "as an experienced provider with our latest additions we really do offer our customers the total transport solution."