Oyster and Princess at the 30th Palma International Boat Show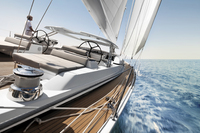 With less than three weeks until the curtain is raised on 1 May, the world's leading yacht manufacturers are releasing details of what to expect at this year's Palma International Boat Show. Princess Motor Yacht Sales will be showcasing seven models whilst Oyster Marine will have its stunning 100ft superyacht "Penelope" on display – a rare treat.
Jamie Collins, Director of Operations for Oyster Yachts in Mallorca, says, "Having Penelope in Palma gives the general public and the marine industry the first real opportunity to see an Oyster superyacht in the flesh. More a small ship than a large yacht, she is eye-catching, performance orientated and boasts generous internal volumes. Initial feedback on her, and predecessor hull number one Sarafin, has been extremely positive and we hope to welcome onboard plenty of new faces in May."
Indeed it could be an exciting week for the Oyster 100/02 Penelope. The Oyster flagship has also been nominated in the World Superyacht Awards - a platform for recognising the finest new superyacht builds delivered to their owners in the past 12 months. Results are announced in Istanbul on 4 May, let's hope Oyster has something to celebrate on the penultimate day of the Palma International Boat Show. Expectations are high in the Oyster Marine camp – all the more poignant as 2013 signals the British manufacturer's 40th anniversary year.
Jamie finishes, "We are very busy at the moment with 30 or more Oysters already in the waters around Palma, a figure that will double as we reach the season closer Oyster Mediterranean Regatta Palma during the first week of October. The Palma International Boat Show is a great introduction to Oyster for those who have never stepped onboard one of our yachts before and, close to our office at Marina Naviera Balear, we'll have a further 12 brokerage yachts from 56ft to 72ft all together in one place for viewing. We envisage plenty of visitors to the Island early May to enjoy the nautical festival atmosphere."
Together with Oyster at the Boat Show will be Princess, a British boatbuilder with exciting news to report both on the Island and back in the UK. In Mallorca, Princess will be opening an additional office in Philippe Starck-designed Port Adriano on 4 May, their second in the southwest joining established premises in Puerto Portals. Meanwhile its superyacht yard in Devonport has just been earmarked for 4.6 million pounds of government funding and praised for creating a further 400 new jobs in Plymouth as it develops its 40 metre range.
Nigel James, Director of Princess Motor Yacht Sales on the Island, comments, "Our expectations are high for 2013, and justifiably so, as we are proud and confident of our products. Companies with the right product combined with the right price, quality and service will triumph in today's market and we're head and shoulders above the competition in this respect. The Palma International Boat Show has always tended to attract an intelligent crowd with a good understanding of the yachting world and we expect no different this year. We await the event with enthusiasm."
Included in the seven-strong Princess line-up will be the spacious four-cabin flybridge 64 and little sister 60, as well as the agile and dynamic V57 and V42. Professional and dedicated Princess staff will be on hand throughout the Show to guide existing and prospective clients through the entire range and Princess experience.
Running from 1 to 5 May 2013, organisers of the Palma International Boat Show have overhauled the format into an activity-packed 'nautical week' with the Palma International Yachting Forum and Superyacht Brokerage and Charter Show running alongside. For more information on the Show visit boatshowpalma.com or use the free mobile app m.boatshowpalma.info. Tickets are five euros on the day, three euros if booked in advance and free for pensioners and children under 12 years of age.