Beginners Guide to Surfing in Cornwall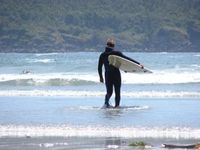 If you've never tried it before, there couldn't be a better time to have a go at surfing! Heaps of people have realised that it's a great way to keep fit and have fun and as such Britain's surf scene is booming. Of course if you want to surf there is no better place to do it in the UK than Cornwall. So if you're tempted to find out what all the fuss is about take a look at our beginners guide to surfing in Cornwall and you'll be catching some waves in no time! …
Get the Kit!
You'll need a wetsuit at all times of year in Cornwall as the English seas are warm but not that warm! Different suits may be suitable depending on the season. If you're trying your hand at surfing in winter or spring, choose a winter wetsuit – this will be thicker neoprene, probably 5mm on the body and 4mm on the arms.
If you're heading out for a surf in summer or autumn it may be better to wear a thinner wetsuit – a '4,3' or a '3,2' or if its really hot a 'shorty' wetsuit, which has shorter arms and legs may also do the job well at this time of year.
If you're trying surfing for the first time hiring a suit is by far the best way to go, so you can check out whether you like it before investing in your own kit! Most good surf beaches have a hire shop within walking distance of the waves - expect to pay something between £5 for 2 hours hire to £10 for the whole day.
When it comes to boards the real rule for beginning is 'the bigger the better'. Having a longer, more buoyant board will give you are more stable surface to practice popping up on once you paddle into your first wave. Most hire shops will offer Swell boards, which are ideal for beginners so ask about this when you are hiring. The going rate for hiring a board is between £10 for 2 hours to £15 for the whole day.
Pick the Beach!
There are heaps of surf spots in Cornwall, most of which are more than suitable for beginners, though some are strictly for the more advanced surfer – like the infamous Porthleven - though this can be great fun to go and watch on a good day! Check out our suggestions below for some truly great beginner surf spots:
Polzeath

This beach is the ideal place to practice catching those waves for beginners through to intermediates. The beach itself is a wide sandy beach, which often picks up quite a bit of swell and provides good quality waves. It's easy to access and has the benefit of being close to the town for cafes, shops and amenities.
Gwithian

This beach, also on Cornwall's north coast, is another ideal spot for those who are new to surfing. The waves there are consistent and good quality and as the beach is very long, you'll have plenty of choice for which wave to pick! Unlike Polzeath, Gwithian beach is situated a little way from a town, although there are parking facilities and a very good café nearby too.
Fistral

Set in the heart of Newquay, Fistral beach is famous the world over for it's quality waves and for being the heart of surf-culture in the UK. For this reason it can be a lot of fun to go to Fistral – although be warned, in the summer especially it can get very crowded as everyone wants a piece of the action! This said, Fistral is still an excellent choice and caters for beginners to intermediate surfers.
So if all of this chat about surfing has got you tempted, take a look at options for accommodation down there. Cornwall has a whole range of choices from cheap hostels to some great hotels dotted along the coast. There are also some superb holiday cottages available to stay in from Cornwall cottage companies such as West Cornwall Cottage Holidays - great choice if you are looking to relax in style after a day in the waves!
And remember anyone of any age can learn to surf – so go on, get out there and have some fun!
Find a Surfing Instructor in Cornwall
If it's your very first time getting 'suited up and paddling out into the waves, we can't recommend enough the benefits of taking a lesson or two. A qualified instructor will be able to show you the basics about paddling, standing up and importantly a little about safety in the sea as well. There are plenty of great surf schools in Cornwall offering everything from your very first lesson through to tutoring for advanced surfers. We recommend these following surf schools in Cornwall:
Sennen Surfing Centre, Sennen
Gwithain Academy of Surfing, Gwithian
Falmouth and Porthtowan Surfschool
Era-Adventures, Polzeath
Harlyn Surf School, near Padstow
English Surf School, Newquay
Shore Surf, St Ives