Parker and Farr create The Garden of Eaton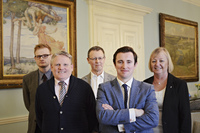 Luxury furniture manufacturer Parker and Farr is opening its doors this spring to showcase its new English Collection.
The team at Parker and Farr will be taking part in the Spring Long Point exhibition in Long Eaton from 13-15 May 2013.
They'll be joining over 30 other designers and craftsmen for the annual show, which gives businesses in the area a chance to demonstrate their rich tradition in furniture making and upholstery.
Every piece in the new Parker and Farr collection has been developed in partnership with English Heritage, and has been hand crafted for the top end of the retail market.
The Parker and Farr showroom will be transformed into The Garden of Eaton for the exhibition to showcase the new Adam and Eve chaise longe and the fresh spring-like colours of the new collection.
Buyers will be served afternoon tea and they'll be able to find out more about the launch of the new Parker and Farr Interior Designer Card.
Tony Crinion, managing director at Parker and Farr said: "The Spring Long Point exhibition is a chance for all buyers and interior designers to see the fantastic work we are doing here in Nottinghamshire.
"The showroom at Parker and Farr is being transformed for the duration of the exhibition to give it a real spring-like feel and we are looking forward to showing off the new English Collection to buyers and interior designers."
Geoff Twells, from The Long Eaton Guild that organises the Spring Long Point, said the standard of British furniture made in the area is second to none.
"We are proud of the fact that Long Point showcases the best of British-made produce which makes it different to the bigger shows. It is also a more intimate event and a much more personal experience."
He added: "Not everyone realises the significance of Long Eaton in the furniture trade and we are keen to ensure it is recongnised for the fantastic furniture and craftsmanship that goes on right here."
For more information on Parker and Farr visit parkerandfarr.co.uk.

To find out more about the Long Point exhibition visit longeatonguild.co.uk/Spring-Long-Point.