One month to go until Museums at Night 2013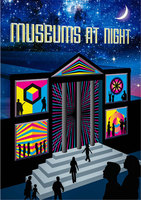 There is just one month to go until Museums at Night, the UK's annual late night festival of art, culture and heritage. Tying in with the European event La Nuit des Musées, from Thursday May 16 to Saturday May 18, hundreds of museums, art galleries and heritage venues all over the country will be opening up late and putting on a fantastic mix of night-time events.
The line-up of events for 2013 is better than ever. Highlights include artists rAndom International unveiling a hugely engaging new installation - a UK premiere, the chance to create art with The Chapman Brothers and Gavin Turk, author talks from Wil Self and broadcaster Simon Mayo, the opening night of Rankin's new exhibition ALIVE: In The Face of Death, city wide culture craws and a sleepover in Kensington Palace. The line-up of events for 2013 is better than ever. Highlights include artists rAndom International unveiling a hugely engaging new installation - a UK premiere, the chance to create art with The Chapman Brothers and Gavin Turk, author talks from Wil Self and broadcaster Simon Mayo, the opening night of Rankin's new exhibition ALIVE: In The Face of Death and a sleepover in Kensington Palace. Musuems at Night is a fantastic way to explore the culture and heritage on our doorstep at night-time once the lights go down.
Contemporary Art:
Ten of the UK's leading contemporary artists will be putting on unique Museums at Night events: Jake and Dinos Chapman will be heading to the Jerwood Gallery in Hastings for Exquisite Corpses, an interactive art event; Gavin Turk will be at Bristol Museum and Art Gallery creating an Egyptian themed art experience; creator of social sculpture Julia Vogl will be heading to the Newcastle's Discovery Museum and transforming 2400 plastic bottles into an enormous chandelier while artist Julian Wild will be calling on members of the community to help him build a giant sculpture from 500 metres of glow-in-the-dark drainpipe at Ironbridge Gorge, the iconic historical industrial site in Coalbrookdale.
Turner-Prize winning artist Martin Creed will be doing a talk interspersed with live musical performances at the Freud Museum in London while over at the Horniman Museum, rAndom International (whose recent Rain Room had people queuing round the block) will be unveiling a hugely engaging new installation, Future Self, never seen before in the UK, the highlight of the Horniman Garden Party The night will also include the UK premiere of Random Dance performance developed by Wayne McGregor, plus live Brazilian music, film screenings, poetry in the garden and how-to gin cocktail making workshops.
Culture Crawls:
Many cities and towns across the UK will be putting on multiple citywide events. Liverpool's annual LightNight (Friday 17 May) sees 90 of the city's cultural spaces and venues opening late with trail of free exhibitions, installations and events. Over in Newcastle and Gateshead, late night culture craw, The Late Shows (Friday 17 and Saturday 18 May) sees venues citywide offering a range of free events, exhibitions and performances. Highlights will include an evening tea party, a peek behind the scenes at a dinosaur exhibition, the chance to contribute to an ever-growing artwork and live science demonstrations in an indoor tropical rainforest. Other towns with an exciting range of evening events include Birmingham (who will be putting on a free "art bus), Norwich, Bath, Dorchester, Oxford, Manchester and Grimsby.
Across Pennine Lancashire there will be a "Festival of Wonders", with 20 events telling the story of the development of the Pennine Lancashire area from medieval times to its peak at the Industrial Revolution. Highlights include "Joseph Briggs The Musical" at the Haworth Art Gallery, telling the story of Accrington born and bred Briggs, who went on to become art director of Tiffany glassware.
Sleepovers:
Museums at Night wouldn't be the same without sleepovers and there are some truly spectacular ones taking place this year, including a once in a lifetime opportunity to become a Prince or Princess and enjoy an exclusive slumber party at Kensington Palace in London, and the chance to Sleep Like A King at Hampton Court Palace. Other sleepover options include a Dr Who themed sleepover at John Rylands Museum in Manchester, a Dozy Dinosaur Sleepover at the Wrexham County Borough Museum, a women only sleepover at The Brink in Liverpool, a train themed sleepover at the East Anglian Railway Museum in Essex, a sleepover at Belsay Hall in Northumberland or an adult only sleepover in the bedchamber of King Henry II's medieval Great Tower at Dover Castle in Kent.
Music events:
Brighton Museum and The Great Escape Festival, Europe's leading festival for New Music, will be partnering for the first time this year. The museum's gallery spaces will be transformed by a series of exclusive unplugged performances from a whole host of Great Escape artists. The William Morris Gallery in London will be offering the chance to explore David Bailey's East End Faces exhibition by night time with a 60's themed evening of music, art and fashion and dancing, while Mercury Music Prize nominated artist Sam Lee and the Nest Collective will be curating a night of live music at a fishy themed foodie event, Cockles and Mussels, at the Museum of London.
Film themed events:
A new exhibition celebrating the cultural history of the Bollywood movie, Bollywood and Bradford: 100 Years of Indian Cinema will be launching at Bradford 1 Gallery exclusively for Museums at Night (from the 70s to the 90s Bradford was the centre for the screening of Bollywood classics). The spine-tingling Cold War Bunker in York, designed as a nerve-centre to monitor fall-out in the event of a nuclear attack, will be showing Cold War Cinema - the chance to watch classic Cold War spy thriller Goodbye Lenin! while the Napoleonic Redoubt Fortress in Eastbourne will be screening the 1953 horror film, House of Wax, starring Vincent Price.
Literary events:
Writer Wil Self will be in conversation at the Writers' Centre in Norwich for a special Museums at Night talk, in partnership with the Norfolk and Norwich Festival of Ideas. Young Sherlock Holmes author Andrew Lane will be discussing his new book Lost Worlds at Barts Pathology Museum in London and there will also be the chance to join BBC broadcaster and author Simon Mayo at The Royal Institute to find out what led him to write books about a science mad element hunting hero called Itch (suitable for children).
Full Museums at Night listings can be found at museumsatnight.org.uk.
Lauren Laverne, Ambassador for Museums at Night says, "Museums at Night weekend is a fantastic opportunity for museums and galleries to get together to put on events that allow us to celebrate our heritage in new and exciting ways - perhaps discovering a cultural gem on our doorstep that we didn't even know existed."
Museums at Night is designed to encourage new audiences into museums and galleries and to encourage them to do something different with their evening. Over 121,000 visitors attended Museums at Night 2012, with well over 500 cultural events across the UK to choose from. Over 43,500 Museums at Night visitors were new to the venue they visited while 5000 had never been to an arts or heritage venue before.
Alan Davey, Chief Executive, Arts Council England, said: "Every year, Museums at Night gets even more ambitious, and this year is no exception. What a brilliant line-up of events, with such a variety of things to do.
"Museums at Night is a fantastic way of opening up museums and inviting people in who perhaps wouldn't ordinarily come, and showcasing exactly what museums are brilliant at - aiding knowledge in fun and enjoyable ways!"
Museums at Night is supported using public funding by the National Lottery through Arts Council England.